Read Our Story and See our Photos
Atlanta - Miami - Lima, 4/6/2019 Photo Gallery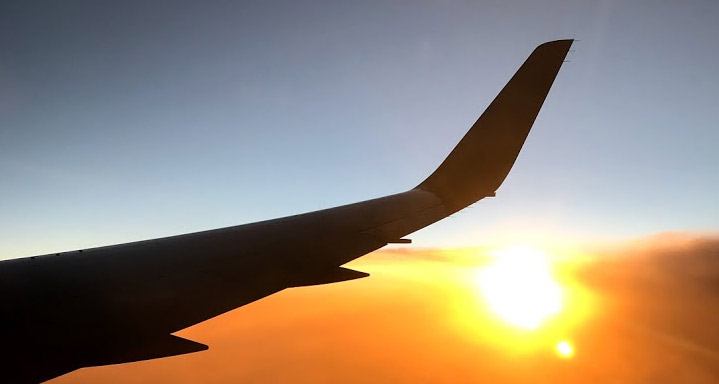 There are places in this world that, when you see pictures of them, you think they could not possibly exist. For me, Machu Picchu has always been one of these places. The landscape alone seems otherwordly, with mountains soaring thousands of feet out of the jungle to pierce the clouds circling around them. And then, straddling the peak, the ruins of an ancient city... this has to be from a movie set, right?
I don't remember what age I was when I realized that Machu Picchu was, in fact, a real place, but I do know that ever since then, it's been pretty close to the top of my travel wishlist. It had been for Nicci too, and we even discussed this almost five years ago when we reconnected in Tampa. We promised ourselves that we'd make it to this place while we were still young enough to handle the physical challenges of climbing the mountain. This year, we both turned 50, and so it was time to act.
Machu Picchu is not an easy place to reach, and it required a lot of research to find the best way there. Due to some new laws designed to preserve Machu Picchu, there's a lot of confusion out there about how best to reach the citadel. After a lot of reading, we understood that we would need to find a local guide to lead us into the park. There are many different tour companies that offer these kinds of services, and eventually, we settled on Adios Adventure Travel, mostly because they responded quickly to my questions submitted through their online forms. This led to a few phone calls with the owner of the company, and gradually we began to build our itinerary. We wanted to go just a little bit beyond the Machu Picchu citadel, and see more of the surrounding mountains as well, so after much discussion, we signed up for an all day trek that would lead us up the side of the mountain so that we could approach Machu Picchu from above. We also signed up to trek even higher on the second day, to go up on one of many paths built by the Incas hundreds of years ago. There are many such paths, and some people plan 4 day hikes, or even two week hikes, along the Inca Trail.
We discovered through our reseach that Peru is a very diverse country, and we realized that we needed to see more than just Machu Picchu, but unfortunately we only had a week, so a couple days in the mountains would have to suffice. We also knew it would challenge us and we'd need some time to recover. The small coastal town of Paracas, an oasis in a desert, seemed like the perfect place to end our week.
As our departure date approached, we began to feel some trepidation. We weren't used to feeling nervous about traveling, but this trip to South America posed some new challenges for us. Unlike past trips to Europe and Japan, where we knew at least that we'd be surrounded by Western (or better) standards, we weren't so sure about that in Peru. But our biggest concern was that we might not be physically able to complete the treks that we'd signed up for. Walking serveral miles around our neighborhood is no problem, but that's a far cry from the mountains of Machu Picchu; so we worried. I worried also about all the connections we would need to make, from the airport to hotels, or to the bus station across town; did I leave enough time in our itinerary? Would we be able to meet our guides, and would they understand the limits of two American 50 year olds? All the meticulous planning, and yet I still worried if I missed that one detail that would ruin the trip.
Our adventure officially began at 5:00pm on Friday, April 5, when we signed off work and jumped in the car for the drive to Atlanta. We stayed that night at the airport Hilton Garden Inn, which allowed us to leave our car there for the week. The next morning, we flew to Miami on an American Airlines 737, arriving just after 11:00am. We had five hours to kill before our flight to Lima, so we wandered the sprawling terminal, eating lunch at a Pizza Hut, and then found a spot to settle in and wait.
The flight to Lima was on a 1990's Boeing 767, which lacked the usual in-flight entertainment systems that we're used to. American Airlines did offer wifi, and I thought I might be able to watch the Final Four on my phone, but as soon as we were outside American airspace, all streaming of network television cut out. That happened shortly after take off, so as far as I was concerned, their wifi was pretty much useless. But no matter. I enjoyed the flight. We flew directly over Havana, and then Panama as we headed south. I was hoping to see the Panama Canal but I was probably on the wrong side of the plane for that. Instead, I was treated to some beautiful scenery as the sun set below the clouds and descended beyond the horizon. The plane wasn't full, and in fact, the row in front of us was completely empty, so Nicci moved up to stretch out across the two seats to sleep for a bit. I found the chicken and rice served about halfway through the flight to be pretty decent, so overall, despite the modern amenities deficiency, I was impressed with American Airlines.
We landed in Lima at 10:30pm, a few minutes early, having gained an hour by crossing a timezone. We disembarked, and made it through customs in an oderly fashion, and then we only had a short wait before picking up our bags from the carousel. We rarely check bags when we travel, but this time we needed to pack clothes for the mountains, including heavy hiking shoes and smaller day packs that we would need for our trek. So we carried on only the day packs, and then checked the other two bigger backpacks, one filled with beach stuff and the other designated as the mountain bag. This made our wandering of Miami International that much easier. Now, in Lima, we picked up these two bags and found the locker storage facility that I had read about, and checked in our beach bag. We'd be back in a few days to pick that up.
The next task was to find our hotel, which was conveniently located right across the street from the terminal. It took about a hundred steps to get there, but we were hounded by taxi drivers looking for a fare at least a dozen times along the way. Check-in was painless, and about 45 minutes after touching ground in Peru, we were up on the 7th floor in our room. I found a Spanish broadcast of the Final Four, and caught the last ten minutes of Texas Tech's win over Michigan State. I had picked MSU to win it all, so was disappointed in the outcome, but otherwise was feeling good about how everything in our long day of travel had worked out so far.
Lima - Cusco, 4/7/2019 Photo Gallery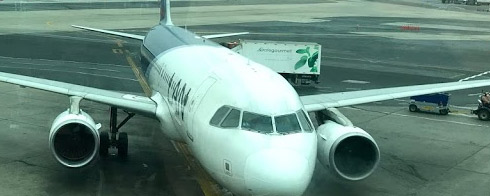 We slept pretty well, and were feeling refreshed and excited to really begin our Peruvian adventure. The hotel breakfast was very good and just what we needed. There was some morning fog that clouded our view from our room, but it was already beginning to burn off by 8:00am as we headed back out across the street to the airport. Inside, the terminal was buzzing with activity, and we found ourselves in a security line stretching almost the entire length of the airport. We had almost 3 hours before our flight, but all of a sudden we worried we hadn't given ourselves enough time. But as busy and seemingly chaotic as Jorge Chavez International Airport appears to be, they have a system that proved to be very efficient. The airport only has one runway, so planes are coming and going every couple of minutes, 24 hours a day, and they know how to handle this traffic. It took only about 15 minutes to get through the line and past security, and then we were able to find a spot to hunker down and watch all this activity.
The flight to Cusco was mostly smooth, and gave us a real glimpse of the varying landscapes of Peru. Our path took us over the sprawling city of Lima and then quickly over the western peaks of the Andean mountain range. Some of the ridges looked reddish in color, with almost no foliage, whereas others were lush green. Further on, the peaks were covered in snow. The highest peak in Peru is 22,000 feet, which we would've flown over or around the night before. Today though, we were headed south, and flying into Cusco which sits in a valley at 11,000 feet above sea level. Our approach brought us over the city, and past the airport which is closely surrounded by city buildings. We descended towards a gap in the mountain range, and then made a 180 degree turn to split the gap and land smoothly on the single runway.
The airport is quite small, but does handle 3 or 4 flights to and from Lima every hour. The city of Cusco is the gateway to the Sacred Valley, and just about anyone who visits Machu Picchu comes through Cusco, the original Inca capital. I had arranged with our hotel for a taxi to pick us up; they had said they'd have a driver with a sign with my name on it waiting for us. But when we exited the terminal, all we could see were people holding up signs. The first one I could make sense out of was a sign that read "Adios Adventure" - which was our tour company, so whatever anxiety I was feeling about making our connection was instantly gone. The young man holding the sign was an effervescent fellow named Ubre. But Ubre was expecting to meet someone else, although he knew who we were. He led us through the crowd where a van was just approaching, and then introduced us to Vidal and Jorge. I had texted with Vidal a couple days before as we were finalizing our arrangements, so it was great to meet him in person. Jorge was the driver, and he took us through the city center, and then up into the very narrow streets of Cusco to our hotel.
Cusco, Peru, 4/7/2019 Photo Gallery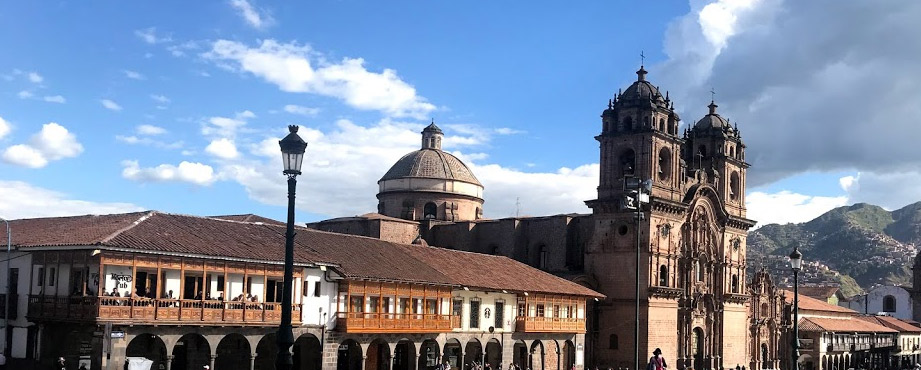 Jorge proved to be a very skilled driver; and one has to be, in order to navigate these streets. Once off the main thoroughfare, the streets turn to one lane cobblestone alleys. And just because they're one lane, that doesn't mean they're necessarily one way. The cars drive fairly fast, as pedestrains press up against the walls so as not to get run over, the cars hoping to make it to an intersection before an oncoming vehicle would force somebody to back up, which happened a number of times on our drive. It seems to drive in this city, one must be just as adept as going in reverse as going forward. It's also important to have side mirrors that can be folded in when necessary to squeeze past another vehicle - or pedestrian. As we wound our way through the city, I thought of those puzzles where you have to get the tiles in order by sliding them up one, down two, over another one, and so on and so on, until eventually it falls into place.
Just like that, we were stopping at a gate in the wall - somehow we had made it to our hotel. We were quickly out of the van (didn't want to block the street for long) and went through the gate, up the stairs and into the Encantada Casa Boutique Hotel. As we were checking in, we were offered coca tea, and then escorted up the circular stairs to our room. The view from the room was breathtaking, and not just because we were slightly out of breath as our bodies dealt with the high elevation. The hotel sits halfway up the side of a mountain, overlooking the red tile roofs of the city below. We spent some time just enjoying the scenery from our room, and also from a balcony on the next level, and then were ready to go explore.
We weren't far from the Plaza de Armas, Cusco's main square, so we walked down the narrow streets in that general direction. Along the way, we came across many street vendors, but one in particular caught Nicci's attention and she struck up a conversation with the woman. Flora showed us her weaving techniques, and Nicci then bought a hand woven belt. I couldn't help but notice her son wearing the Pikichu shirt. I guess Pokemon's really are everywhere.
Some of the streets leading to the Plaza are lined with stones that were put in place by the Incas, some 800 years ago. The amazing thing about these stones is that the Inca's didn't use any kind of mortar, instead relying on their ability to cut the rocks so precisely that they fit perfectly together. It's amazing that they've held for a millenium. Inca engineering is really incredible.
The Colonial architecture in Cusco is pretty good, too. The two main buildings surrounding the Plaza are the Cusco Cathedral and the Church La Compania de Jesus, and these two impressive structures seem to compliment each other and the Inca foundation quite nicely. We enjoyed wandering through the park, and then found a KFC for a late lunch before heading back up to our hotel.
Vidal had planned to meet us there at 6:00 to talk with us about our trek and two days at Machu Picchu. We were increasingly starting to worry about what we'd gotten ourselves into. After our leisurely walk around Cusco, we were feeling the elevation. I had a slight headache and was ready for bed. It was all of a sudden becoming very real that we had signed up to climb a mountain in two days. But Vidal's knowledge of the trail was comforting, and I'd say instrumental, in helping us get our confidence back that we'd made the right decision to do this trip. At this point, we still didn't know how we were going to get from Cusco to Ollantaytambo. In my prior communications with the hotel, they had assured me that they could arrange a taxi if need be, but Vidal said he would help with this. He told us about a new modern road that was the fastest way to cover the 80 miles distance, but then said due to landslides, it was too dangerous. So he suggested that we go a different way which would also give us an opportunity to stop at a couple attractions in the Sacred Valley. We were very thankful to Vidal for making all the arrangements for us.
Good Morning, Cusco! 4/8/2019 Photo Gallery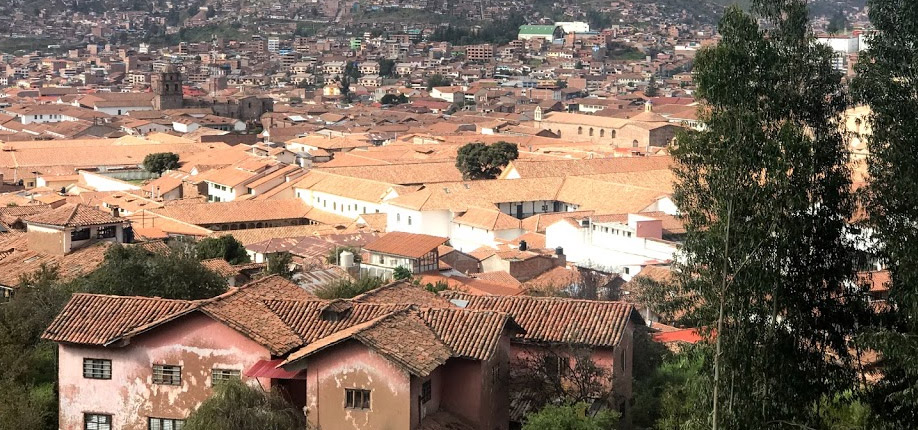 In the morning, we enjoyed omelettes, fresh fruit, coca tea, and some of the smoothest coffee I've ever had. We had some time before our drive, so we wandered back down to the city center where we exchanged some dollars for soles and bought a few water bottles for our trip. The narrow streets and the Plaza were already buzzing with activity on this Monday morning.
Cusco - Urabamba - Chinchero - Ollantaytambo, 4/8/2019 Photo Gallery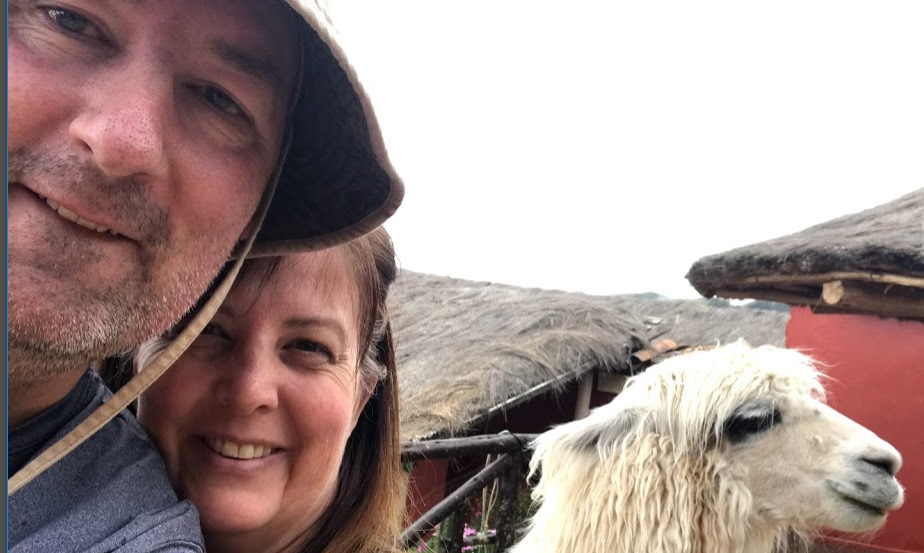 Our driver arrived promptly at 11:00, and sadly, I don't know his name. He didn't speak much English - but he did speak more English than we speak Spanish. He was anxious to get us loaded in his van because he worried we would be blocked in. Just down the street, some poor fellow had locked his keys in his truck, and it was causing a real logjam. It took some manuevering, but we were able to get past the cluster of vehicles, and eventually we were on a two lane highway headed out of the city.
After almost an hour of nice, mostly flat scenery with mountains in the distance, we stopped in the town of Urabamba, where we met several families of weavers. Textiles has long excited Nicci, so she was particularly interested in this place. Our driver led us into a courtyard and handed us off to a young woman who did speak English, and she gave us a wonderful lesson on the Inca tradition of weaving. She demonstrated their process of producing dyes, and how some plants gave a very bright red that could be used as a lipstick, guaranteed to last a hundred kisses. Other plants were used for cleaning the wool, or as a shampoo that would always keep your hair from going gray. At one point she showed us a bone that they use for holding the yarn and she asked if we knew what kind of bone it was. We guessed maybe a llama bone of some sort, since we were surrounded by llamas there. But that was the wrong answer. "No, this is a bone from a tourist who did not buy anything." We think she was joking, but by then, we had already decided we'd be leaving with something, so after her presentation we browsed through hundreds of beautifully colored and masterfully crafted rugs and table runners and mittens and hats and a variety of other pieces. Nicci decided on a table runner and a scarf. We didn't realize that all these items were made by different families, so we had to charge our credit card separately for our items, as each family handled their transactions independantly.
Our driver was waiting for us, and soon we were off, gradually climbing towards the town of Chinchero. We weren't really sure what we were going to see here, but Vidal had recommended this place, so we paid for a pass that granted access to several attractions in the Sacred Valley. Initally, there wasn't much to see at all: just a narrow alley with lots of steps going up. Chinchero is at an elevation of over 12,000 feet, and by the time we got to the first intersection of this alley, we were really feeling it, and also wondering if we had just wasted our money. But then we turned left, through an alley that was much more level, and came out to a wide open field. On one side was a church, built in the early 1600s; a colonial structure built on top of an ancient Inca palace. The edges of the field descend into terraces, dropping hundreds of feet down the side of the mountain. We certainly had not wasted our money. This was an awesome space, and we had it mostly to ourselves. It was fun to explore, and simply amazing to think about the expertise of the Incas and how they sculpted the mountains to fit their farming needs, creating the terraces and the irrigation channels that are still in use today. As we headed back out, we walked past a group of workers, carefully excavating yet another terrace. Incredibly, so much of the Inca empire has yet to be discovered, and researchers are finding out more and more about this ancient civilization everyday.
The drive from Chinchero to Ollantaytambo is spectacular, as the highway drops 3,000 feet. Again, I felt thankful for the skills of our driver as he handled the road with ease. The road itself was a fairly modern, standard two-lane highway, and while there wasn't a lot of traffic, there were some anxious moments as cars would cross the double yellow line to pass, even on blind sharp curves. The highway was reduced to a narrow cobblestone lane as we entered the town of Ollantaytambo, shortly after 3:00pm.
Ollantaytambo - Tunupa Lodge, 4/8/2019 Photo Gallery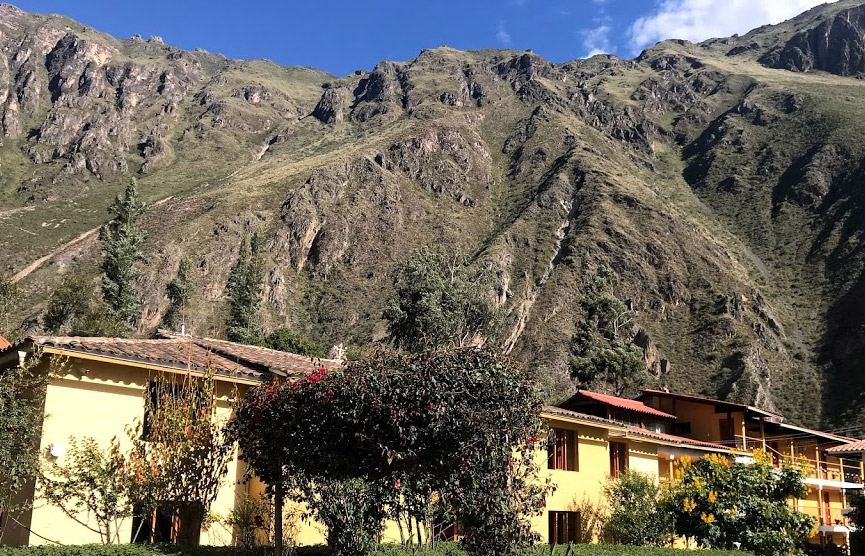 Ollantaytambo is known as a former Inca administrative center, but now the adobe buildings are mostly hostels or cafes, catering to the thousands of hikers that come here every year. Our hotel, the Tunupa Lodge, is located on the edge of town, just a short walk to the train station which made it convenient for us. Our driver dropped us off in the hotel courtyard, and then refused payment from us. He told us he would work it out with Vidal at some later time. So we said Good Bye, and then checked into our room. We had great views of the surrounding mountains, including the Inca fortress ruins that cling to one side of those mountains. We could barely see the movement of people way up high, moving across the terraces. My fear of heights made me cringe just seeing them up there.
We unpacked our bags, and then repacked our Camelback packs in preparations for tomorrow's hike. We were going to leave our big bag at the hotel, and carry with us up the mountain only a toothbrush, clean socks and underwear, a few energy bars, and lots of water. Once we accomplished that task, we set out to find some dinner.
At least, that's where I thought we were going. My wife had other ideas. I followed Nicci past several cafe's advertising pizza, and over a bridge to the base of the Ollantaytambo ruins. She had our passes that we had purchased in Chinchero, and the park officer waved us in through the gate. It was an impressive scene; the ruins of buildings at the bottom, with steep stairs ascending past the plateaus made some 600 years ago. So up we went, a few levels at a time, pausing often to catch our breaths and get acclimated to the height. Nicci is very patient and supportive of me, in all areas of life, but in particular to when it comes to my fear of heights. I've always loved the view from high places, like an observation deck in a tall building, or the window seat in an airplane. As long as there's a barrier that comes up past my center of gravity, I'm fine. Being on the edge of this mountain was testing my limits, but I was amazed at what we were seeing, and determined to press on. We made it to the top and enjoyed the views looking over both sides of the mountain. We then started our descent, and took a path that led around the side towards another structure. This path was only a couple feet wide, only had a rope railing, and dropped straight down several hundred feet. I didn't make it very far on this path, and Nicci thankfully agreed that we'd probably done enough for this day. So we inched our way back to the more secure stone steps, and went down the way we'd come up. I think we were both feeling pretty good that we had done as much as we did. It seemed a good warmup for our trek tomorrow.
We headed back to our hotel, stopping for a pizza along the way. At the hotel, we could've watched a Spanish broadcast of the NCAA Championship basketball game, but we were both exhausted and needed a good night's sleep. The real trek was coming in just a few hours.
Inca Trail, 4/9/2019 Photo Gallery


We woke early, excited and nervous, but ready to go. We were the first guests at the lodge restuarant for breakfast, which unfortunately wasn't quite as tasty as what we'd had at our previous hotels. But maybe that was just as well; we didn't want to get too filled up before heading up the mountain.
As we were finishing up, a group of college age kids came in that we realized had been on our flight to Cusco with us two days before. What caught our attention was the young man wearing a Minnesota Gophers hat. On Sunday at the airport, he had been wearing a Minnesota Timberwolves shirt. We didn't say anything then as we were busy boarding the plane, but this morning in the small restaurant, we had to say Go Gophs! He responded with "Row the Boat!". It turned out they were from Minneapolis, and that four of the five were siblings, and three of those were triplets. The guy in the hat had married in to this family. We met the parents after breakfast, and then discovered that this family was doing the same trek we were, with the same tour company although they would have a different guide. Their guide was Ubre, the young man who we had first seen at the Cusco airport with the Adios Adventure sign. He was carrying our train tickets and the passes we needed to enter the Inca Trail and to Machu Picchu, as well as a box lunch that we added to our backpacks. Another guide, Elena, was there as well, and we all enjoyed chatting as we walked the half mile down to the train station. Our own guide would meet us at the beginning of the trail once we got off the train.
The station was a busy place. The narrow guage line serves multiple rail companies, handling freight and a variety of passenger traffic, ranging from luxury cars to local trains used only by Peruvians. Our train was towards the high end, but still a far cry from the Hiram Bingham Train which is operated by the Orient Express Company, and is said to be one of the most luxurius trains in the world. Maybe we'll take that next time, but on this trip, we were limited to the PeruRail offering because it's the only train that stops in the middle of the jungle.
Ollantaytambo is at the 68 Kilometer marker. We rode the train, enjoying the beautiful scenery with imposing mountains looming over our train's skylights, to the 104 KM marker, where the train slowed to a stop. The 36 kilometers had taken just over an hour to navigate. We exited, along with many other people and were quickly led down a path to a suspension bridge. We paused for the traditional picture at the start of the trail, and then headed across the bridge. A young man wearing canvas shoes, red jeans, a plaid button down shirt, and a white hat met us at the halfway point. This was Ismael, our guide for the next two days, and we shook hands above the rushing water below.
Just across the bridge there is a check point, and we presented our passes to the officials there who keep very good track of who's on the trail. From this point on, there would be no going back. Once in, the only way to get out was at the end of the trail. As we began walking, Ismael talked about how the Inca's built this trail as the main route between Cusco and Machu Picchu. It's essentially 80 kilometers long, and "service stations", or supply houses were built every 20 kilometers. Runners would use the trail to bring news from the capital in Cusco to the Citadel at Machu Picchu, using the stops to relay messages to the next runner. Unbelievably, these 80 kilometers that go up and down could be traveled in a single day. We were only traveling the last section of this trail, but it included an incline of over 2,000 feet.
We started going up almost immediately, but it was mostly a gradual incline, and we were surrounded by trees and other lush vegetation. After about an hour, the trees gave way, and the views opened up, and we suddenly realized we were several hundred feet above the railroad tracks below. We took a much needed break, sitting in a covered hut carved into the side of the mountain. Our new Minnesota friends caught up to us at this point, and then they moved on ahead. It was clear they were moving at a faster pace.
The next hour was much tougher, as the inclines became steeper and the dropoffs more extreme. We paused more often, struggling to keep our footing on the uneven stones. Surprisingly, I rarely felt the fear of being on a ledge hundreds of feet above the valley floor. I think our expedition from the day before had helped me acclimate to the dizzying heights. Or maybe I was just too tired to worry about falling off the mountain, and instead, I used all my concentration to put one foot in front of the other. By the time we reached a second break point, we were totally exhausted. The Minnesota family was already there, and as I stumbled into the hut, I asked them what mountain in Minnesota they climbed to practice for this trek. Dave, the father, said "just a StairMaster". Whatever they did, it seemed it was working more than our walks around our neighborhood was doing for us. But after they left to continue the trek, we reminded ourselves that they were more than a few years younger than us, and this wasn't a race. Ismael assured us that we were doing fine and on a good pace. No other groups had yet caught up to us.
The next segment of the journey was brutal. Shortly after leaving the break point, we turned a corner and we could see our lunch spot just a short distance away. The problem was, we had to navigate some very steep and twisting paths to get there. But we were rewarded with incredible scenery, including an impressive waterfall. Ismael gave us coca leaves to chew on, which supposedly gives one energy and prevents altitude sickness. We didn't document much of this part of the journey, as our lungs and legs were burning, and it was all we could do to keep climbing. When we finally reached the lunch spot, all I wanted to do was lie down in the grass and sleep. I can't remember ever being as sore or as tired as I was at that point. I have to admit, that if there was an option to tap out and get airlifted off that mountain, I would have taken it. But, as we had been warned, the only option was to keep going. There were no horses or ponies to carry anyone, and as Ismael said, you can't make a llama carry anything.
After about 20 minutes, which I didn't think was nearly long enough, it was time to go. We were barely halfway. While I had been lying there, Nicci and Ismael had dumped some of the water we had been carrying, reducing the weight of our packs considerably. Ismael then took my pack, in addition to his own, and gently said "Vamoose, my friends". Onward amd upward. We were at the base of an Inca storage facility, with the terraces carved in a semi circle going almost straight up. The steps were so steep, more like a ladder than a staircase. At the first step, muscles in my legs cramped up so tightly I couldn't bend my knees. I was in serious pain and all I wanted to do was to lie back down again, but Nicci was behind me, and I heard her encouraging words, and somehow I managed to make it to the next step, and the next, and eventually all the way to the top of the terraces. My legs loosened up then, and I was able to look down the stones we'd just climbed, and really appreciate the view from the top.
From here, the trek evened out a bit, but only slightly. As Vidal had told us two days before, "Nothing in Peru is really ever flat." There was another check point, with "bathrooms" and "showers" for people who camp here while on a longer 4 day trek. I use quotation marks, because the facilities were little more than a hole in the ground and a trickle of water diverted from a mountain stream.
Continuing on, we had sections of steep steps, some going down, but mostly still going up, but there was also stretches of more gradual elevation changes. Through it all, the view to the valley below was incredible. We paused often, to sit on the rocks and rest, but also to take in all that we were seeing. At one point, the path narrowed and had mostly been washed away. A wooden bridge had been built to allow us modern day hikers to pass. It's hard to tell from our pictures, but there's nothing under that bridge except a thousand feet of space. A day before, I would have been terrified to cross it, but on this day, my fear of heights had vanished, replaced by a fear of not being able to finish the trek.
During this part of the hike, a number of groups passed us, but we also passed some other people. I think Ismael, who was very patient with us, was pleased with our pace. I was continuously amazed that he was doing this in his canvas shoes, while carrying his pack and also what looked like a bag of groceries, and I was a little bit ashamed that he was now carrying my pack as well. When I felt I could handle it, I took his backpack which was still much lighter than my own.
Eventually, we got to the base of a "staircase" that Ismael called Purgatory. "Almost at the end", he said. We heard a group of people cheering, and we thought... they made it, they're celebrating, the end is just up these steps. Let's do it! So we crawled up, on hands and feet, and conquered the steps... only to find we still had more steps and a great distance yet to go. Had we gone through Purgatory only to find ourselves in Hell?
But as we pressed on, the views were definitely heavenly. And finally, just before 3:00pm, we reached the Sun Gate and got our first glimpse of Machu Picchu. The Sun Gate at Intipunku was the main entrance for the Incas into Machu Picchu. The stone gate perfectly frames the sunrise at certain times of the year. The Incas were not only good engineers, they were incredible astronomers. The Sun Gate is also the highest part of the trail, and after our grueling adventure, it was an unbelievable sight. We sat there for awhile, watching misty clouds form and roll around the mountain tops, and just enjoyed the beauty and the magic of Machu Picchu. We had made it. But we weren't done... Ismael told us that we still had about an hour to go.
We felt a few drops of rain, and we heard some other people say a storm was coming. We had worried all week that we'd be making this trek in rain, but it had turned out to be a perfect day for hiking. The temperature was in the low 60s, and there was enough cloud cover to keep the sun from burning down on us. Luckily, these few drops never amounted to anything more.
The trail to the citadel was mostly downhill. Easier on the lungs, but just as hard on the knees, and pretty tough on the heart too, as there were many vertical drops which triggered the fear of heights again. But as we descended, we did feel a certain pride, knowing that we had accomplished this trail. Many people who visit Machu Picchu do go on and make the trek up from the citadel to the Sun Gate, so as we passed them going up, we allowed ourselves to secretly gloat that we'd approached the citadel the way the Incas did. But in reality, we were truly humbled by this day. The trek took more out of us than we ever could have imagined, and we were left awestruck by the beauty of Machu Picchu.
When we finally reached the citadel, we only paused for a few pictures before continuing down the steps towards the exit. It was now after 4:00pm, and the last bus that takes tourists all the way down the mountain leaves at 5:30. We were not going to miss that bus at any cost. We would have tomorrow to explore Machu Picchu.
Aguas Calientes, Peru, 4/9 - 4/10/2019 Photo Gallery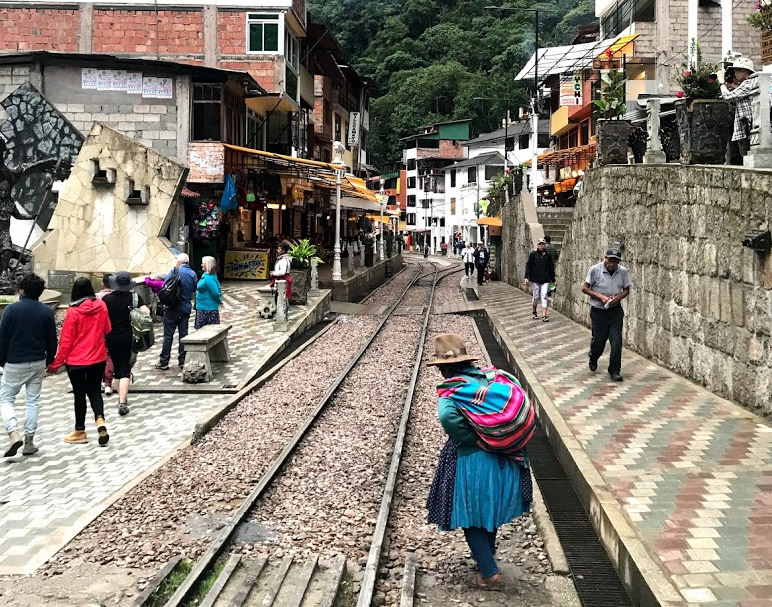 At the Citadel entrance, we did the typical tourist thing and got our passports stamped with the official Machu Picchu seal. There was a line for the busses, but it didn't take long for us to find a seat, and wow, did that feel good to sit down. I know I was too tired to be nervous about the ride down. It's a crazy road, with countless switchbacks. The only comforting thing about it is knowing that these drivers do it many times a day.
It took about 25 minutes to reach Aguas Calientes, the town at the bottom of the mountain. It's unique in that there are no cars, other than the busses that ferry people up and down. The railroad tracks run right through the main street that is otherwise used by weary hikers and the locals that cater to them. We needed to thank Ismael for the day, so we offered to buy his dinner. He led us to a place that served pretty good pizza and overlooked the river. It was great to relax and get to know Ismael a little better. He shared that his family lives in a jungle not far from Machu Picchu; his parents work a coffee and tea farm, and Ismael would like to start his own tour company offering different treks through the jungle with stops at his family farm. He had started a website but had no ideas about how to finish it and get it working for him, so I told him that's exactly what I do, and I'd love to help him with it. Once we were back home, I convinced my boss that we need to give Ismael a site for free, as he's the biggest reason I made it back alive and uninjured.
The pizza and conversation was great, but we were exhausted and very ready for bed. Our hotel, the Hatun Inti, was just a short walk away, and it was perfect. It was right on the river, and the sound of the rushing water was soothing, but the best part was the jacuzzi tub. We soaked our aching muscles and then were in bed before 8:00pm. I had a hard time falling asleep though, as my legs would painfully cramp up. I drank as much gatorade and water as I could, and eventually sheer exhaustion took over and I was out.
We were up shortly after 6:00, and enjoyed a wonderful breakfast. We were planning on meeting Ismael at 8:00 for a tour of the citadel.
Machu Picchu, 4/10/2019 Photo Gallery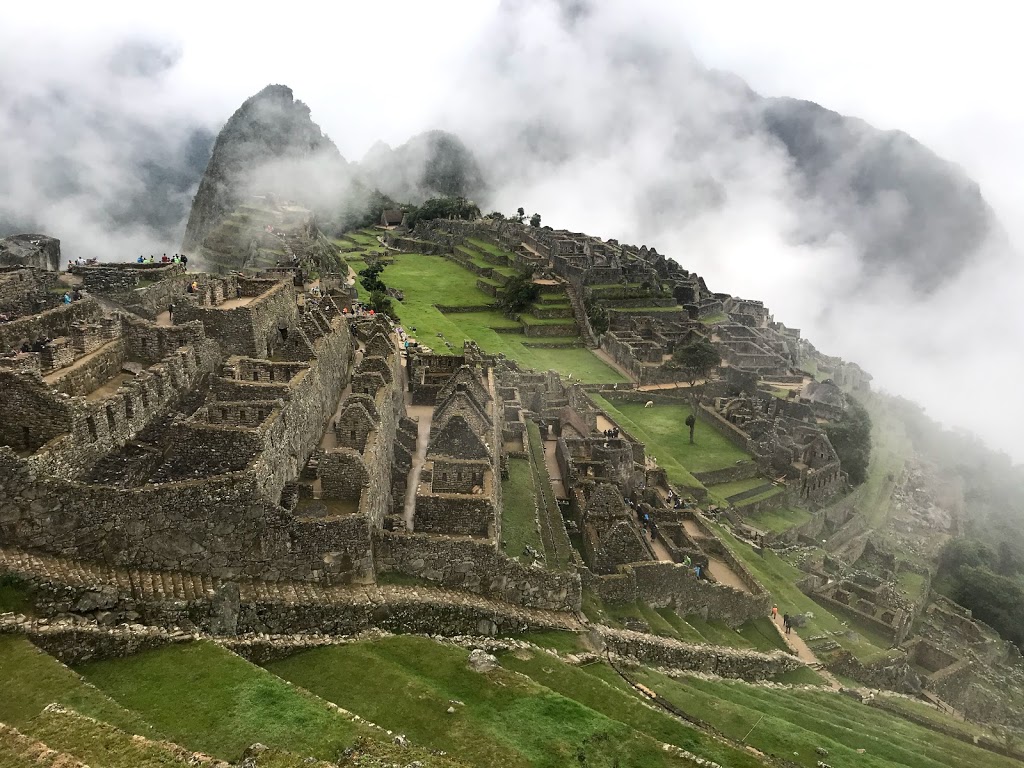 We waited in a short line for the bus, which in peak tourist season can last 3 hours. Fortunately, we only waited about 15 minutes before we were headed back up the crazy road. At the top, we showed our passports and tickets at the entrance. I was very impressed with how the Peruvians controlled the crowds flocking to their national landmark. They have strict rules about who can enter, how many can visit, and the times when you can enter, as well as what you can carry with you. They began putting these rules in place just a few years ago, as Machu Picchu became so popular, that tourists were destroying the area. As far as I can tell, the Peruvians are now doing a very good job in preserving this UNESCO World Heritage Site.
Our original plan was to tour the citadel this morning, and then go on another two hour hike to the top of Machu Picchu Mountain, which towers about 1000 feet above the citadel. But our trek yesterday had taken too much out of us, so we decided that just a tour would be enough. We have no regrets about that decision. The tour was fascinating, and Ismael's descriptions about the place were informative and inspiring. I'm still blown away by the fact that someone first built the foundations, and then future generations build the terraces, and then their great grandchildren built the city in the sky. The planning, the craftsmanship, the discipline needed to build something like this is staggering. It's still not completely known what it was used for. Some speculate it was a summer home for the king, but Ismael's theory, which we like much better, is that it was a university where they studied the stars. Indeed, there are many rocks that are carved and pointed in a specific direction to align perfectly with a particular star formation. According to Ismael, the entire Inca empire, which stretched from Ecuador to Chile, was shaped to resemble the Milky Way.
As we were winding our way through the ruins, our Minnesota friends led by Ubre and Elena passed us by. They said they barely survived yesterday's trek as well, but they were determined to climb another mountain. They were going up Huayna Picchu, which is the most popular add-on trek for tourists. It's the mountain that is most visible in our pictures, looming in the background of the citadel. We wished them good luck, but had no wishes to join them. Later in the day, they admitted that the one hour climb to the top was the scariest thing they'd ever done.
We spent about 2 1/2 hours at the citadel. It was hard to leave, and before heading back to the busses, we took some time to just sit and absorb the views.
Back to Cusco, 4/10/2019 Photo Gallery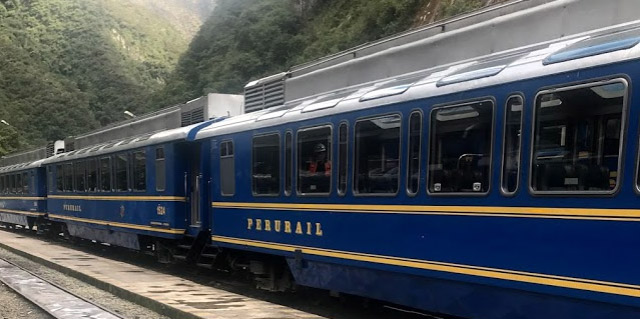 We had some time to kill before catching our train back to Ollantaytambo, so we wandered the streets of Aguas Calientas. It's a small town, but a busy place with all the tourists coming and going. The train ride was relaxing, and it was nice to just sit back and enjoy the scenery. By 5:00pm, we were back at the Tunupa Lodge, where we collected our bag that we had left. We said Good Bye to Ubre, Elena, and the Minnesota family, and then left in a van with Ismael and Jorge, the driver who had picked us up at the Cusco airport a few days before.
The drive back was uneventful, even though we realized we were taking the new road back to Cusco - the one that Vidal had said was too dangerous due to landslides. We did see evidence of falling rock, but nothing blocking the road, and this route was much faster. Jorge skillfully navigated the highway as it turned into narrow alleys again in Cusco, and by 6:30 we were back at the Encantada Casa hotel. We said our Good Byes to Ismael and Jorge, with promises to keep in touch with Ismael. Some day, we will visit him at his family farm in the jungle.
Cusco - Lima - Paracs, 4/11/2019 Photo Gallery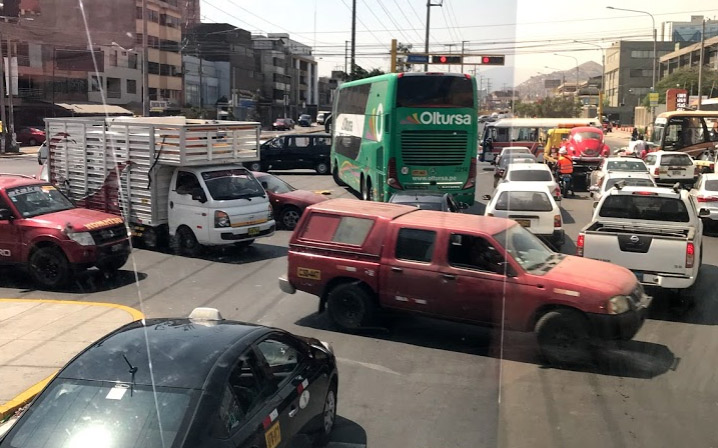 We had an 8:00am flight back to Lima, so the hotel arranged to have a taxi pick us up at 6:30. The driver arrived right on time, and then did some impressive maneuvering through the narrow streets to get us to the airport by 7:00. Once again, we were seated in 1A and 1B in the LATAM Airlines A320, but unfortunately, the window was dirty, and my pictures and video of the landing in Lima didn't come out very well.
Back in Lima, our first task was to swap out our mountain bag with our beach bag at the locker facility. Then we had to find a taxi to the bus station, which was on the other side of the city. Taxi drivers are everywhere at the airport, but sadly, not all are trustworthy, and there are a lot of warnings for tourists to make sure you only use licensed services. We were a little nervous about this, but in the end, had no problems using the Green Taxi service which offered a set price that we could pay up front.
The drive through Lima was entertaining. Crazy amounts of traffic, with lots of horn honking, lane indifference, and traffic signals treated as suggestions only. But we made it safely to the bus station, with plenty of time to spare. We bought a snack at the station restaurant and settled in to watch the buses coming and going.
Our Cruz Del Sur bus was a double decker, and we had the front row seats on the top. The comfortable seats fully reclined, and we each had our own screen to watch movies in Spanish, but our entertainment would be the Peruvian traffic and passing scenery on this four hour ride. About 30 minutes in, we were served a decent lunch of chicken and rice. By then, we were out of the city limits, speeding down a 4 lane highway running along the coast. The traffic was fairly heavy most of the way, with cars and trucks passing on shoulders and even sometimes on the wrong side of the cones in construction zones. It was easy to see why the biggest recommendation for foreigners in Peru is to NOT rent a car.
The landscape was fascinating, with endless sand dunes in sharp contrast to the green, lush mountains that we'd just come from. We passed several modern developments advertising luxury homes and resort style living on the beach, but mostly the towns consisted of simple dwellings or shanty housing. Many buildings seemed incomplete, with exposed rebar sticking out of the concrete. We had noticed this, too, in and around Cusco. Nicci said it best, that much of Peru looks unfinished.
As we got closer to Paracas, it really began to feel like we were at the end of the earth. The landscape had changed to a moonscape. Our bus drove past a few structures, and then pulled through a gate in an adobe white-washed wall and came to a stop. Our hotel had sent a taxi, and we saw a young man holding a sign with my name as we departed the bus.
Paracas, Peru, 4/12 - 4/14/2019 Photo Gallery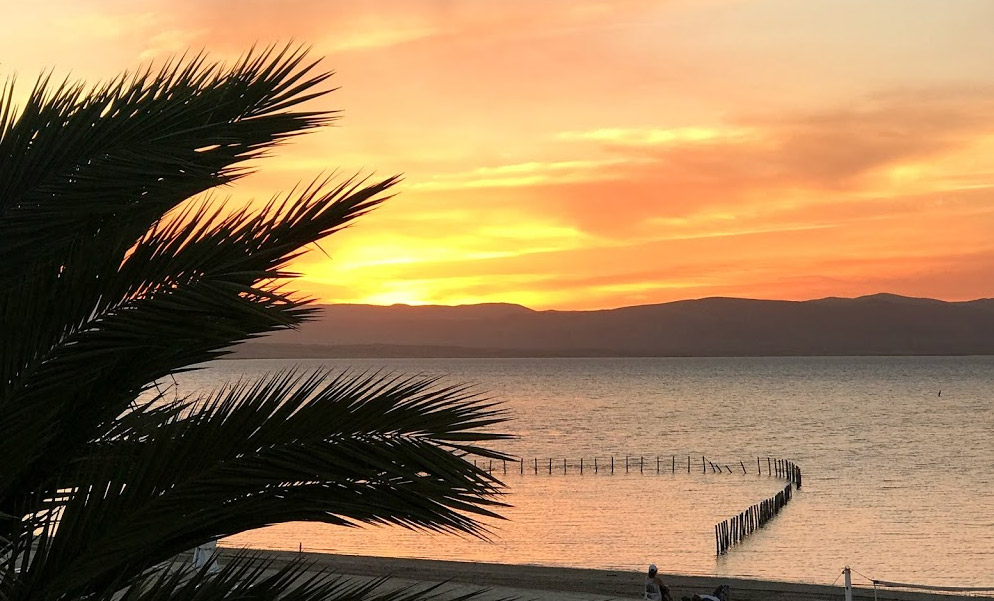 The DoubleTree Resort is located just south of the town, about a ten minute drive from the bus station. It feels very isolated, as there are just a couple of neighboring buildings, and then the rest of the peninsula is a protected nature reserve. It was just what we needed. Upon checking in, we enjoyed the sunset from our second floor room overlooking the ocean. We then ordered room service and devoured hamburgers and fries, and then slept soundly.
We didn't get up until almost 9:30, sleeping in for the first time all week. Breakfast was fantastic, and then it was pool time. For much of the day, we had the pool mostly to ourselves, and it was so nice just to float in the water and soak up the sun. We had a light lunch at the pool bar, and then wandered down the beach, putting our toes in the water. We could've chosen to swim in the ocean, but after seeing a giant jellyfish washed ashore, we thought we'd stick to the pool. Just down from the hotel there was a group of people kite surfing which looked like fun. We noticed they were all wearing wetsuits, probably for protection in case they got tangled up with one of these jellyfishes.
After our short walk, we spent the rest of the day lounging and resting our weary muscles. Towards the end of the day, the place began to fill up as people, mostly young families, began arriving for the weekend. But the spaciousness of the resort was such that it never felt crowded. Dinner in the restaurant was excellent, and the service outstanding. We tried our best to use the few Spanish phrases we'd picked up over the week, as not many spoke English. Communication was never a problem, though, and that's thanks to the patience of our hosts who accepted and appreciated our efforts to learn the basics.
Saturday was another day full of relaxation. There are plenty of opportunities in Paracas to see different sights, including boat tours out to a series of islands that are known as the "poor man's Gallapagos". We were also just a few hours from the Nazca Lines, which are a mysterious set of lines carved into the ground, like crop circles, only much larger. There are said to be over 300 different figures in the shapes of animals or plants, and it covers about a thousand kilometers. It would have been interesting to go on one of these excursions, but we decided we'd have to come back for those. It just felt too good to be in the pool or to lie in the sun.
Last Day in Peru, 4/14/2019 Photo Gallery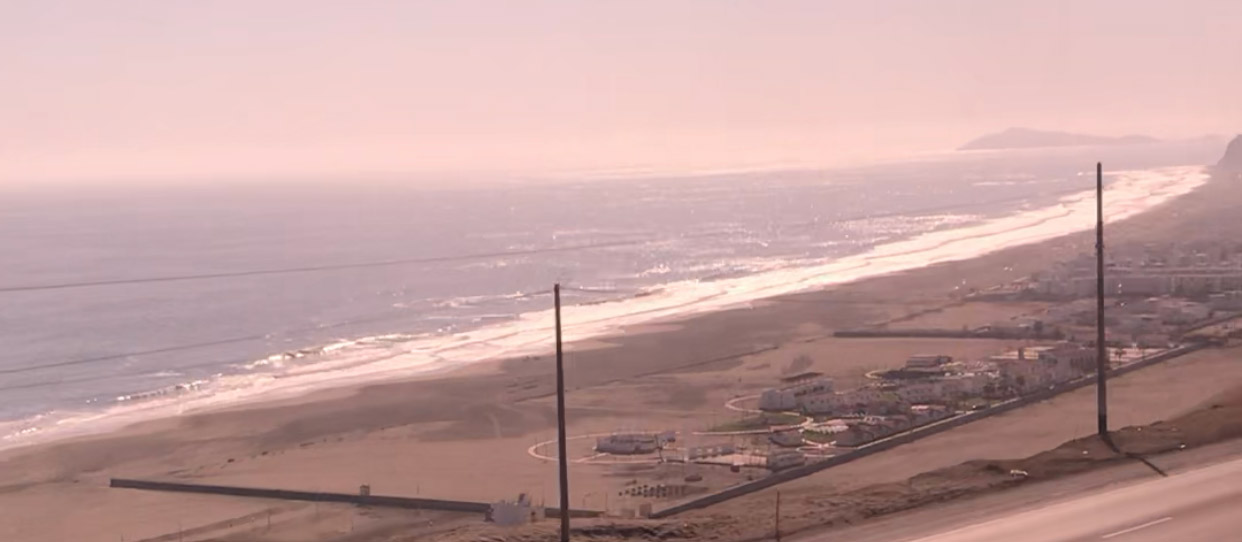 We slept in again on Sunday morning, and then enjoyed another fabulous breakfast. We had time for one last dip in the pool, and then it was time to go home. We had a taxi pick us up at 12:30 and drop us off at the small Paracas bus station, where we had a short wait. Then it was back in the front row at the top of the double decker bus for the four hour drive to Lima, and another taxi ride through the busy city to the airport. Our flight didn't leave until 1:00am, so we had six hours to kill at the airport. We retrieved our mountain bag from the storage facility, and then waited for the Delta ticket counter to open so we could check our bags.
The flight home was just bearable. Most people get on a 1:00am flight, they want to sleep; the airline wants to feed you. Delta's meal at 2:00am was barely edible, but it hardly mattered to me. I wasn't hungry and couldn't get comfortable enough to sleep anyways. I spent much of the night staring out the window and thinking about all the wonderful experiences we'd had. I had maybe dozed for a total of 30 minutes by the time "breakfast" was served at 7:00am. Like dinner, it could hardly be categorized as food. The best thing about the flight was that we landed in Atlanta 45 minutes early.
We got our bags and made it through customs without much delay, and then didn't have to wait long before we had a shuttle to the hotel where we'd left our car. I grabbed a coffee and then made the two hour drive, getting home around noon. Sleep then came easily, back in the comfort of our own bed, dreaming of what's next.