To Japan! 3/29 - 3/31 Photo Gallery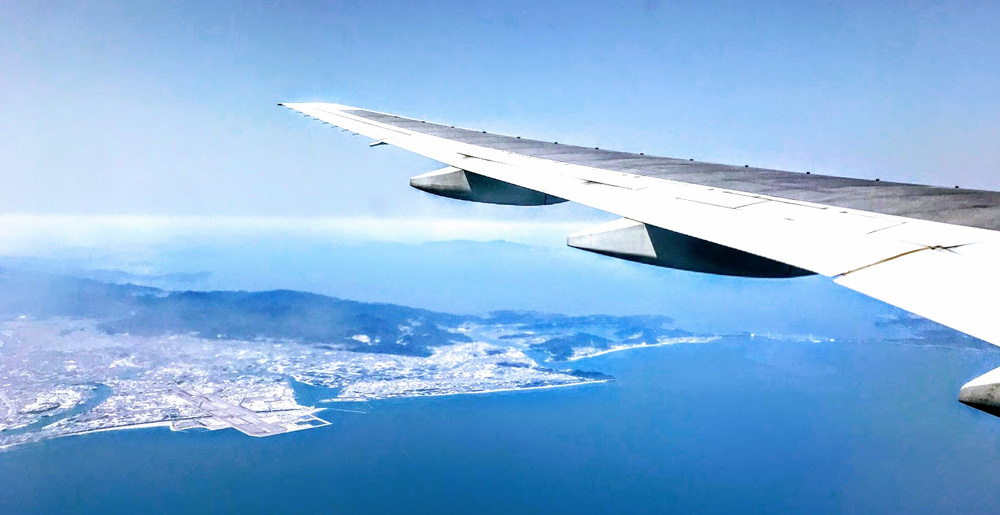 Our departure date for Japan was March 29, 2018, but the planning for this trip began about eight months prior to this. I was up late one night, browsing Google Flights, as I often do, when I realized that we had enough Delta Skymiles saved up to fly for free in premium economy class from Tokyo to Detroit on one of Delta's brand new Airbus A350 planes. Of course, we still had to get to Tokyo first, and then home from Detroit, as our miles were not enough to cover a round trip to Asia. But still, excited by this prospect, I started looking for a cheap entry flight into Japan. My search didn't take long; I found a sale on one of the highest ranked airlines, Cathay Pacific, on flights leaving New York. This flight would also tick off a couple boxes on my bucket lists because it meant changing planes in Hong Kong's spectacular new airport, and then we'd be landing at Kansai International Airport, which is built on a man made island off the coast of Osaka. For an aviation and architectural enthusiast like myself, this was a done deal. I just had to convince Nicci it was worth a 16 hour flight.
It didn't take much convincing, as Nicci is always up for a travel adventure, and Asia would be a brand new continent for her. Certainly, the promise of flying back to the States in relative luxury was a nice carrot to have out there, but more than that, the idea of exploring and visiting a new world together was enough for us to commit to this trip. We bought our entry and exit tickets, and then over the next couple of months watched for sales to get us first to New York, and then home from Detroit.
I have to admit, I was extremely nervous about our trip by the time March 29 rolled around. I worried that I hadn't left enough connection time in between our flights, and that any kind of delay would completely disrupt the itinerary we had mapped out. We were scheduled to leave Augusta for Atlanta at 5:00pm, but as is typical, this flight was delayed about 45 minutes. That meant the 1 1/2 hour layover we were supposed to have was cut in half, so we hustled to catch our flight to New York's JFK. Once on board, we taxied to the runway, and we're next in line for take off when the captain announced that an incoming plane had an emergency and we would have to taxi out to another runway. That delay cost us another 45 minutes, but that was not as worrisome as we were supposed to have 3 hours in New York. That flight on a Delta A319 was a bit rough; lots of turbulence as we descended through heavy fog, and we couldn't see a thing until we were on the ground. So much for seeing the Manhattan skyline, but more importantly, we now would have plenty of time to explore a bit of JFK before boarding the Cathay Pacific 777ER to Hong Kong.
Unfortunately, there wasn't that much to see at JFK at that time of night. We took the airport train from Terminal 4 to a nearly deserted Terminal 7. After getting through security, which took just a few minutes, we wandered empty halls before settling in at our gate, waiting for our plane to arrive. We were scheduled for a 1:35am departure, but the 777 didn't arrive until almost 2:00am. The Cathay Pacific crew turned it around quickly, though, and we were in our seats by 2:15am and up in the air about 20 minutes later.
We were served a delicious dinner and then we settled in to watch movies. Sleep did not come easy, despite our internal clocks telling us it was around 4:00am. Economy class in the Cathay Pacific 777 was comfortable enough, but still difficult to fully extend my legs. I watched "Three Billboards Outside Ebbing, Missouri", and then switched over to the flight path map as we made our way over the polar ice caps. I had wondered if we might catch a glimpse of the Northern Lights, and at one point, we actually did see some greenish lights dancing in the dark night. It was quick though, and by the time I had my iPhone camera out they were already fading away. I dozed for a short time, on and off, waking up often to look out the window as we followed the Lena River down through Siberia. It was dark and desolate, but enough moonlight to give hints at what the landscape looked like below, with the occasional lights from a remote village illustrating the loneliness of that region.
Leaving New York an hour late meant arriving in Hong Kong at 6:00am, rather than 5:00, and this meant the sun was coming up and we could see the beautiful islands coming into view as we made our approach. It's a different kind of spectacular than the approach into Hong Kong's old Kaitek airport, which included a giant checkerboard painted on the side of a mountain to warn the pilots that it was time to turn 90 degrees and fly low over high rise apartments before landing on a runway that stretched out into the bay. But this new approach is just as scenic and a little easier on the heart. The airport itself is a beautiful, efficient design, and would have been a pleasant place to spend a layover. Of course, the downside to being an hour late, meant we didn't have that much time to explore. It had now been 28 hours since we left home, and we were ready to reach our final destination, which was still a 4 hour flight away.
The ascent from Hong Kong International Airport, on a Cathay Pacific 777-200, took us out over the city, giving us amazing views of hundreds of skyscrapers, wedged in between mountains and the sea. The topography of this region has always fascinated me, and certainly, Hong Kong will be a place that Nicci and I return to someday. This flight went quickly. While Nicci watched movies, I stared out the window as we flew directly over Taiwan and soon after, the southern tip of Japan. Excitement kept the sleepiness at bay, as we slowly descended towards Osaka.
Kansai International Airport was built about 15 years ago, constructed on a man-made island off the coast of Osaka. The jury is still out on whether this is an engineering marvel, or an epic engineering disaster. The island has slowly begun to sink, dropping a few inches each year, although it is now believed to have stabilized thanks to added pilings and jacks that literally lift the entire airport and tarmac. The airport terminal itself is a beautifully designed, architectural pleasing building. Unfortunately, arriving passengers don't get to see the best parts, and are instead whisked through windowless areas and funneled down to customs and immigration. This was our first taste of Japanese efficiency, however, as that process didn't take long, and suddenly we were in Japan.
We made our way out into Kansai's main entry hall, a spacious and airy multi-storied structure. We stopped at a currency exchange booth and then looked for signs to guide us to the train station. Signs are everywhere in Japan, and it can be overwhelming, as most are (naturally) in the Japanese language. Many (but certainly not all) do have English translations, but it can be difficult to pick out from the different sizes, styles and colors of the Japanese characters. After taking a few moments to soak it all in, we eventually found our way to the train station ticket office, where we exchanged our Japan Rail vouchers for actual passes.
We had purchased the vouchers online about a month before our trip. The cost of a voucher equals about the cost of one and a half trips on the bullet trains - or shinkansen, as they are called in Japan. Anyone traveling to Japan will undoubtedly travel by train more than once, so this becomes an incredible deal. These vouchers are offered to foreign tourists by the Japan Rail company. Once we exchanged the vouchers, we could now simply hold up our passes at every train station ticket turnstile marked with a "JR" sign, and be waved through, to sit wherever we wanted on just about any train in the country. We could also get reserved seats on a shinkansen, which we did merely for peace of mind most times, but we wouldn't have had to. Half the cars on the trains are for non-reserved seats, where it's first come, first serve. The shinkansen trains run every few minutes, connecting the big cities and making it possible to go from one end of the country to the other in a very short, comfortable manner.
Our first ride on a Japanese train was on the Kansai Airport Rapid express train. This train would take us non-stop off the island airport and through the heart of Osaka to the main station. While not a shinkansen, it moved through the city at a pretty good clip, and in about 45 minutes we were at Shin-Osaka, one of the city's busiest stations. The train arrived at an underground platform, that surprisingly wasn't crowded at all. But as soon as we took an escalator up, we were surrounded by thousands of people, all hustling from one train to another. Again, signs were everywhere, and it took a few moments to find the "JR" sign, and then to the correct platform for our second train of the trip. This would be a short shinkansen ride to Kobe.
Kobe, 3/31 Photo Gallery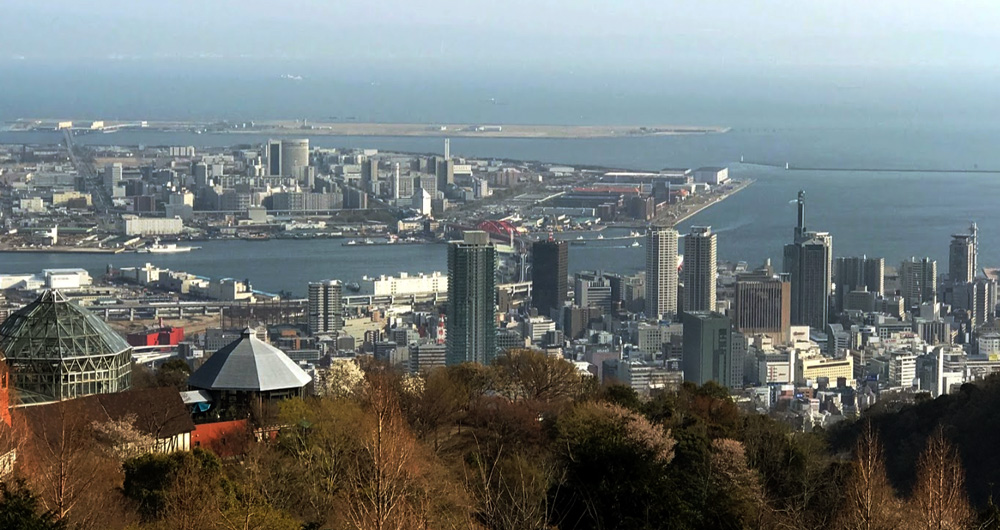 The city of Kobe is only about 40Km from Osaka, and like a lot of areas in Japan, is pretty much urban development the entire route. Our first shinkansen ride lasted about 12 minutes. After entering a tunnel minutes after leaving Osaka, we came out of the tunnel and right into Shin-Kobe Station. Our hotel for our first two nights in Japan was just a few minutes walk from the station, and finally, after about 35 hours of traveling, we reached our destination.
Exhausted but exhilarated and excited, we decided that we needed to explore before succumbing to sleep. We had picked this hotel, the ANA Crowne Plaza, due to it's proximity to the train station, with the added benefit that it was also right next to the Kobe Ropeway, a cable car that goes up a mountain to a garden park area at the top. The views up there were phenomenal; all of Kobe was laid out before us, the dense city wedged in between the mountain and the sea. We spent about 45 minutes at the top, enjoying the cool breeze and the fresh air. We strolled past gift shops, looked at some eating places, but eventually decided to head back down to our hotel to shower, order room service, and sleep.
Kobe to Hiroshima, 4/1 Photo Gallery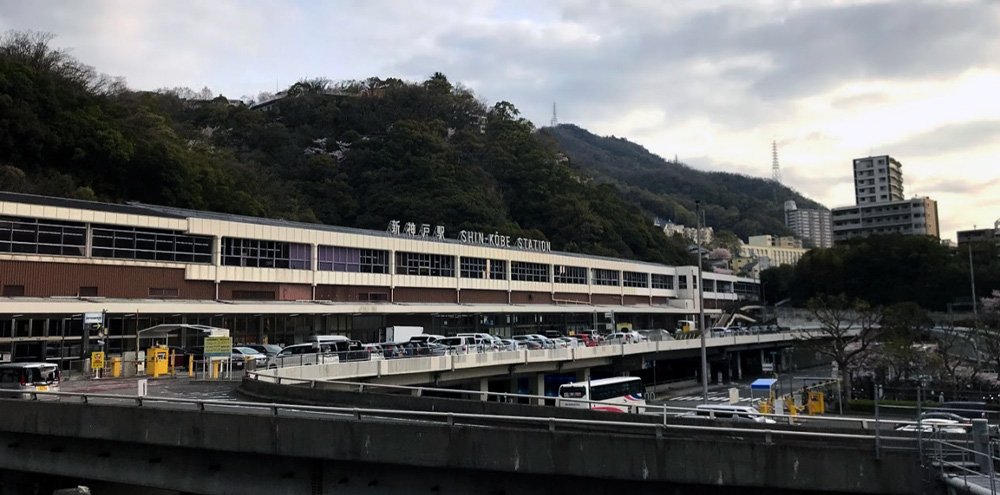 We awoke earlier than expected, but felt refreshed and ready to go. The Crowne Plaza buffet breakfast was served in a large room, with bright morning sunshine streaming through the floor to ceiling windows overlooking the city streets. Even at 6:30am, on Easter Sunday, most tables were occupied, although the size of the room kept it from feeling crowded. There may have been one or two other Caucasians, but mostly the other patrons were Japanese; families on vacation, and more than a few traveling businessmen, which I found odd. I understand the Japanese business culture is pretty intense, but dressed in business suits with a briefcases, on Sunday morning? Fascinating.... but the breakfast itself was fantastic, with a mix of Western and Japanese foods. We tend to stick with the familiar when it comes to eating, as our stacked itinerary doesn't allow time for upset stomachs. So we enjoyed the sausage, bacon, eggs, omelettes, and pancakes, and tea for Nicci, coffee for me.
By 7:30am, we were back at Shin-Kobe Station, and shortly thereafter, on a shinkansen speeding towards Hiroshima. I had visited Japan in 1976 with my family, and among the many images that had stuck with me for forty plus years was that of the Atomic Bomb Dome in Hiroshima. This building was the only structure left standing after the atomic bomb was dropped on Hiroshima on August 6, 1945. More than 70,000 people were killed instantly; many thousands more died later of radiation burns. These numbers were hard to understand as a 7 year old, and yet the image of this building, with the exposed steel beams rising from crumbled concrete created in me a very real understanding of the evils of war. I've always wanted to return to this place, and on this Easter Sunday, I had the chance to share my memories and create new ones with Nicci.
Hiroshima Atomic Dome, 4/1 Photo Gallery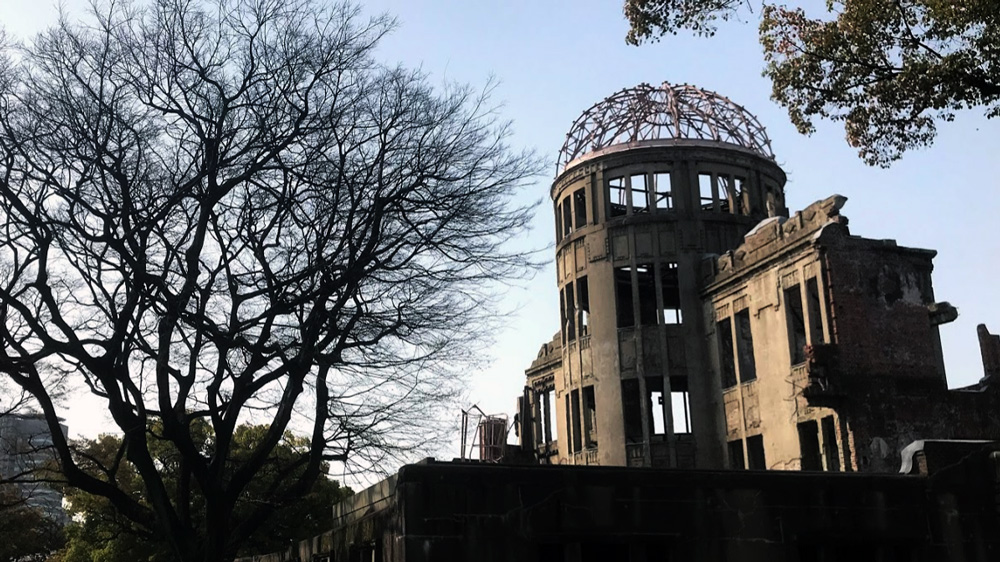 Hiroshima is about 300KM from Kobe. On the bullet trains, this distance takes about an hour and a quarter. Just outside Hiroshima Station, Nicci and I boarded a hop-on, hop-off tour bus that winds through the city. We only had a few miles to go to get to our destination: Peace Park and the Atomic Bomb Dome. Along the way we chatted with a couple from Australia who complained about the lack of English speakers in Japan. These kinds of comments always get to me. I don't understand why one would expect to travel to a foreign land and yet not have a foreign experience? Throughout our travels, Nicci and I have at times experienced barriers in language, but as we see it, that's not a source of frustration, but rather an opportunity to learn something new.
The bus ride didn't last long, and by 9:15am we were standing in front of the Atomic Bomb Dome. A rush of emotions passed through me, and I think through Nicci as well. We spent several moments in silence, absorbing the historical somberness of this place. For me, it was as I remembered, and for awhile I was taken back to 1976. But then, it struck both of us, that this reminder of the worst that man can do is also surrounded by beauty, and rebirth. Fittingly for Easter Sunday, the day was lovely; bright sunshine, and the famous Japanese cherry blossoms were showing bright pink and red flowers. We moved past the dome, and crossed the river into Peace Park.
Hiroshima Peace Memoria Park, 4/1 Photo Gallery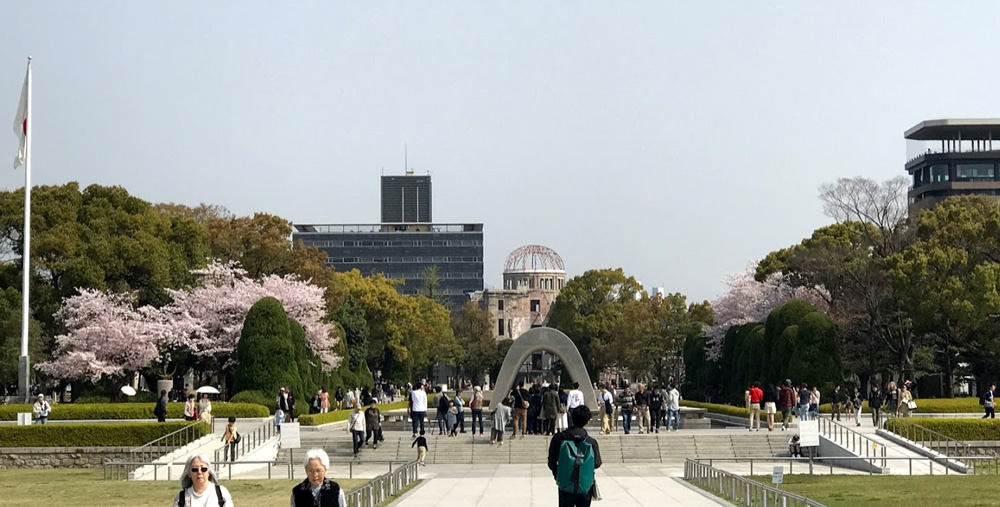 The Park was filling with people; tourists like ourselves, but also local families, out enjoying the day. The museum was closed for renovations, but on such a gorgeous day, we didn't feel like we wanted to go inside anyways. We wandered around for a bit, stopping for ice cream, and just taking in the sites. After about an hour we were ready to move on to our next destination: the island of Miyajami.
Hiroshima to Miyajami, 4/1 Photo Gallery



We boarded a ferry boat that had docked in the canal near the Atomic Bomb Dome, and enjoyed the 20 minute trip out from Hiroshima to the island. Miyajami is a popular spot for tourists and locals alike, known primarily for the Great Torii Gate, a large orange structure originally built in the 12th century. The gate is built just offshore, however, as we would discover in a few hours as we were leaving the island, during low tide, it's actually possible to walk out to the gate. It's an impressive monument, symbolizing the boundary between the spirit and human worlds. It also makes for great photographs, and we were among thousands of people taking selfies with the gate in the background.
Miyajami, 4/1 Photo Gallery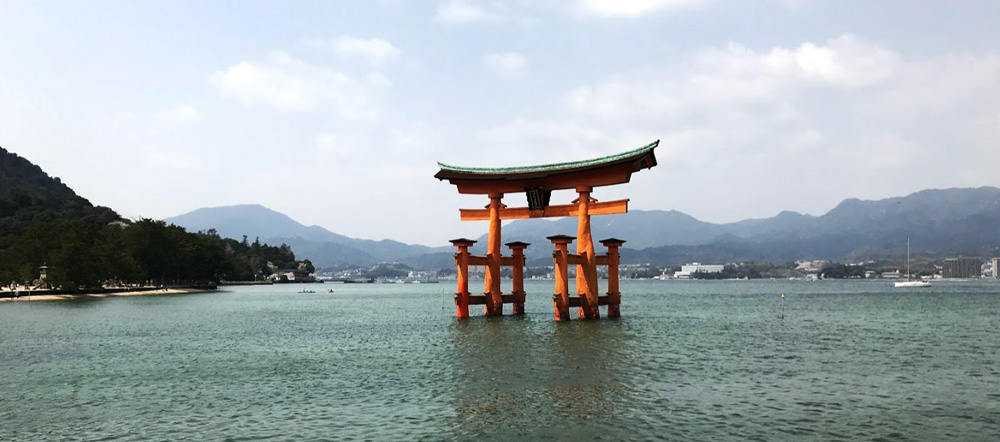 The island is only accessible by ferry, but does have a population of around 2000 people. It's also inhabited by deer that roam freely through the streets. We took a few selfies with them as well, and then wandered through a temple, observing some sort of prayer ritual involving several people dressed in business suits. We took more pictures of the Torii Gate, and then headed up the hill, through shops and residential streets. At the end of one street we came upon a small park on the side of the hill, and again it was crowded with families, enjoying a picnic lunch and the amazing cherry blossom trees. We continued our walk and eventually found a series of temples with hundreds of Buddha statues, in all shapes and sizes. We particularly enjoyed the walking path lined with miniature Buddhas, all covered with knitted hats. Either the Japanese were concerned about their heads getting cold, or they have a really great sense of humor.
We continued walking up a footpath, with designs of finding another cable car that runs along the mountain ridge of this island. But the unseasonably warm sun was starting to take it's toll on us, and the further we walked away from the ferry docks, we decided we might have to save the cable car experience for another trip. Our walk did take us high enough that we were able to get pretty impressive views as it was, so we found another path that led us back down towards the Torii Gate. By the time we descended, the tide had receded a great amount. Probably in another hour, people would be able to walk right out to the Gate itself.
Miyajami to Himeji, 4/1 Photo Gallery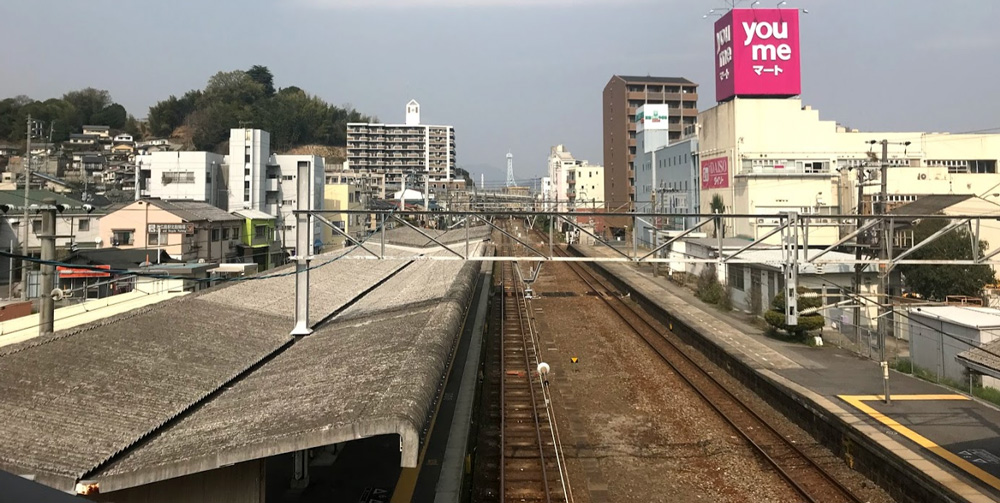 We didn't stick around for that. Instead, we found a different ferry boat to take us the short distance to the mainland; to the town of Miyajimaguchi. From our research, we knew that it would take us two train rides from this seaside town to get back to the main Hiroshima station, where we could get the shinkansen back to our hotel in Kobe. The local commuter trains are comfortable enough, but a far cry from the speed and smoothness of the bullet trains. Still, we enjoyed the ride, and at the station where we transferred between local trains, we enjoyed sitting on a bench, observing and absorbing the Japanese culture. We were tired, but pleased with all that we had accomplished on our first day in Japan. Now it was just after 4:00pm, and we were ready to board the shinkansen for the hour and a half journey back to Kobe.
About two thirds of our way through the trip we pulled into Himeji Station, and we made a quick decision to get off the train. Himeji was one of the last places that we had put on our trip wish list, where we thought maybe we could do it, but not a big deal if we missed it. But zipping along in the air conditioned comfort of the shinkansen for almost an hour had re-awakened us, and we thought, let's check it out. The highlight of Himeji is the Castle, which was first constructed in 1333, and rebuilt in the 1600s. It's the largest castle in Japan, sitting up on a small hill, barely a mile from the train station, and we thought to ourselves, let's at least step out of the station and look up the street to see it, figuring we could always get back on the next train in a half hour if we weren't impressed.
Himeji, 4/1 Photo Gallery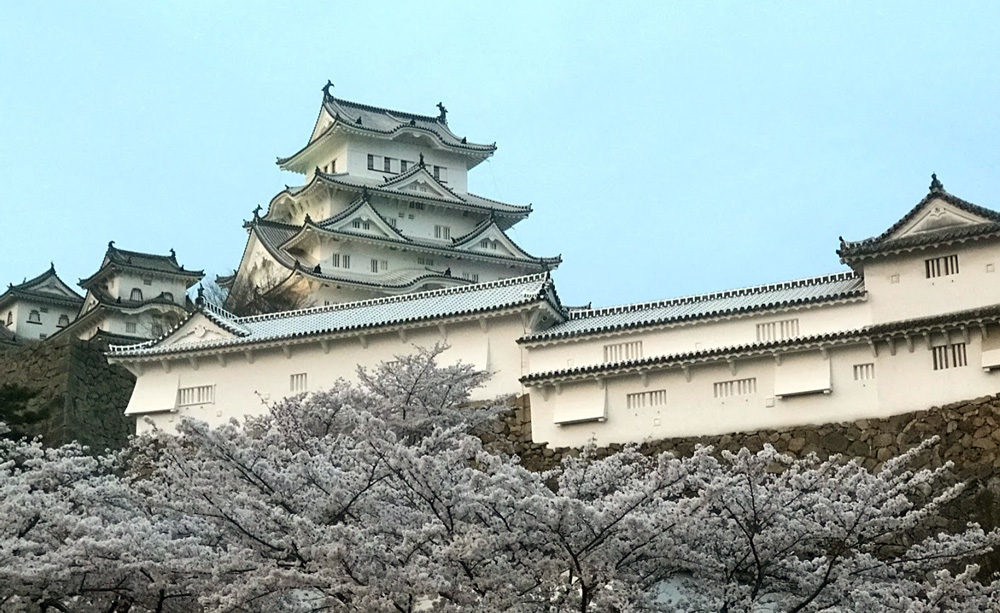 We did look up the street, and realized that we needed a closer look, but that mile up the hill seemed a bit far after a full day of walking. A helpful guide at a tourist information booth in the station directed us to a bus stop, and within a few minutes we were on a city bus. A few minutes after that we were standing across the street from the castle, and immediately impressed with the size of the building, and also the size of the crowds gravitating towards the main entrance. There is a moat surrounding the castle grounds, and the castle itself is contained within 40 foot stone walls. Invading armies would have a hard time penetrating this place, which no doubt is why it's lasted all these years. Fortunately, in modern times, there is a welcoming bridge and a gate that we crossed. Once inside the walls, there is a large grassy area, and then the castle sits up on it's hill in the center.
Our first gaze inside the castle walls took our breath away. The grassy area was filled with people, sitting on blankets, playing Frisbee, kicking soccer balls, singing and dancing and having fun. The field was lined by the most incredible cherry blossom trees, all in full bloom. The bright red and pink flowers, with the white castle as a backdrop, was absolutely beautiful. We took many pictures, each tree more striking than the last, and yet I'm afraid our pictures will never do justice to the brightness of nature. The Japanese Cherry Blossoms are always talked about as something you have to see to believe, and now, having seen it, I completely understand and agree with that sentiment.
We walked the path under the trees to the castle entrance itself. The tours were closed for the day, so we didn't get to go in it, but we were feeling like the real beauty was outside the building. We walked halfway around it as the sun began to set, and bright spotlights took over in illuminating the castle. This stop at Himeji Castle, which began as an afterthought, will certainly be one of our most lasting memories from this trip.
We were so energized by our experience that we decided we could walk back to the station, rather than wait for a bus. Just outside of the station, we discovered some kind of school dance group performing in a small park area, and we stopped for a few minutes to take it all in. We knew we had some time before the next train to Kobe, as Himeji is not a main stop. Direct trains from Hiroshima to Kobe run every few minutes, flying past the station platforms, slowing only to around 180Km/hour. It's quite a feeling, having these incredible trains flying by you, as you wait for your own train. Our train eventually did come, right on schedule of course, and by 8:00pm we were back on board. By 9:00pm we were in bed and fast asleep.
Bamboo Forest Arashiyama, 4/2 Photo Gallery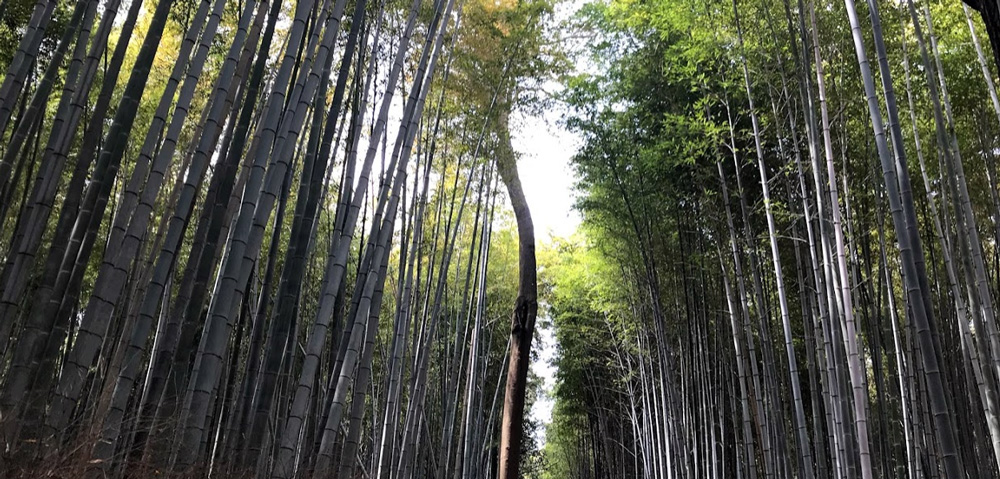 The next morning we slept almost to 7:00am, our bodies still not fully adjusted to the time zone. We enjoyed the same quality breakfast, and then checked out of the ANA Crowne Plaza hotel. We planned to spend the next two days in the Kyoto and Nara areas, with our next hotel centrally located in Osaka. The first step was to get back on the shinkansen for the short ride to Osaka and continuing on to Kyoto. The attractions we wanted to see were quite a ways from the main lines, so we knew we'd face some challenges in finding these places. All the time spent researching, and studying maps prior to coming to Japan, suddenly seemed inadequate as we exited at Kyoto. The station itself is incredible, immense with people everywhere, and dozens of tracks from multiple train lines. Signs everywhere, full of information that can be overwhelming until you figure out the tricks to read them. We hadn't yet figured out those tricks, but eventually we did find a storage locker where we could leave our backpacks. Then we were on to find the platform to catch the local train to take us to the Bamboo Forest. On our way through the enormous station, we came upon an open air spacious 15 story atrium. We only took a glance at this space, knowing that we'd be coming back through here several times in the next two days, and would have time for a full exploration later on.
The Bamboo Forest is just that; a forest of bamboo trees, with walking paths through the green stalks that can grow as high as 100 feet. It's a beautiful contrast to the seemingly endless cityscape of urban Japan, and it's pretty easy to get to, if you know what you're doing. We didn't, so we stumbled around a bit after getting off the local train. We thought we needed to take another train into the forest and stood in line for tickets. It was crowded, and so it took several minutes before we reached the counter. The kind young man told us in English that wasn't much better than our Japanese, that it was only a 10 minute walk, and the next train wouldn't be leaving for another hour. So with that knowledge, we went out to the street to try and figure out what direction we should walk for the next 10 minutes. It's hard to just "follow the crowd" when there's a crowd everywhere. Even tourists were going off in different directions, so there seemed no clear path we should take. We couldn't find a WiFi signal either, but fortunately, the compass function on my phone combined with several maps I had saved got us going. Only about 50% confident we were going the right way, we set off through narrow streets, and sure enough, after about 10 minutes, there it was.
As are most places in Japan, it was crowded, but that never detracted from our enjoyment. We slowly worked our way along with everyone else, taking pictures of the unique green trees. We then discovered a garden area, that we happily paid a few yen to enter, and were once again blown away by the beauty of the Japanese foliage. Plants, flowers, and trees, in all colors, shapes and sizes. The garden turned out to be much bigger than we originally thought, and we wandered for about an hour on various paths, past temples and ponds, before we eventually exited back out into the bamboo forest. It was just about noon by the time we made it all the way through the forest.
The other attraction we wanted to see in Kyoto was the Thousand Gates of the Fushimi Inari Shrine. This is actually 4,000 closely spaced orange gates that you walk through up a hill until you get to a temple, and it's actually quite far from where we were at the end of the Bamboo Forest. We didn't really want to walk back the same way we'd come, so we tried to find an alternate route. We saw a young Australian woman looking at a map, so we went over to ask if she had any advice on how to get to the Fushima Inari Shrine. She pointed out how far it really was, and then suggested an alternate path that would get us back to the train station. That ended up being about a 30 minute walk, and by the time we were back at the station, we were pretty well exhausted. We took the local train back to Kyoto, found a McDonald's, and then had just enough energy to explore the station atrium, having decided that the Fushimi Inari would have to wait another day.
Kyoto Station, 4/2 Photo Gallery



The Kyoto Station Atrium is an impressive work of engineering and architecture. At each end there are escalators that rise all the way to the top, to a sky park on the roof with views of the sprawling city. A few floors down from the top, there's an entrance to a hallway full of ramen restaurants, that were quite busy on this Monday afternoon. We walked through it and then out into a skyway that spanned the entire atrium from about 12 stories up. We enjoyed the views, but the spring sun shining through the glass enclosed space was wearing on us, and we were anxious to reach the far side and descend back to the atrium floor.
Kyoto to Osaka, 4/2 Photo Gallery



Exhausted, but not ready to give up on the rest of the afternoon, we decided to take advantage of our JR Rail passes and see some of the country in the convenience of an air conditioned shinkansan train. From Kyoto, there's only two directions you can go in: south to Osaka and Hiroshima, or north towards Tokyo. We decided to go north, even though we'd be going that way in two days. We retrieved our backpacks from the locker, and then reserved tickets for a local shinkansen, which moves just as fast as the express trains, but stops more frequently. Without really knowing why, we planned to get off at Maibara and turn around and come back. I think we had misread the map, as Maibara turned out to only be about 20 minutes down the line from Kyoto, but nonetheless, relaxing in the comfortable seats as we hurtled along at 300Km/hr was nice. There really wasn't much to see in Maibara, as it appeared to be an industrial area, so we turned around, waited just a few minutes for the return train, and then we were headed back south, this time just passing through Kyoto Station and getting off in Shin Osaka.
The return trip took barely 30 minutes, and then we were back out onto the same platforms where we had first arrived after taking the Kansai Airport Express two days earlier. We weaved our way through the thousands of people and eventually found the local train we needed. This second leg was just a four minute ride to Osaka Main station, which turned out to be just as massive and just as crowded as Shin-Osaka. But we were getting used to the signs, and starting to figure out that there was indeed order to this chaotic environment, and before long we were walking through skyways over the tracks and then down through a shopping center, before exiting the station right across the street from our hotel.
By 4:00pm, we were checked into the Hilton Osaka, took a few minutes to marvel at the views from our 25th floor room, and then fell fast asleep.
We had thought we might nap for an hour or so and then venture out to find dinner. Instead, we slept solidly to almost 6:00am, Tuesday morning. We obviously needed the rest, and we awoke feeling quite refreshed. Our goal for the day was to head southeast out of Osaka to the village of Nara, and then back north to the Fushimi Inari Shrine that we had missed the day before. We hustled up to the 29th floor where we were first in line for the breakfast buffet at 6:30. The breakfast was decent, although not as complete as what we had in Kobe, but the views from the top of the hotel more than compensated. The sun was well on it's way rising above the city, and it looked like another beautiful day was in front of us.
Nara, Todai-Ji Great Buddha Hall, 4/3 Photo Gallery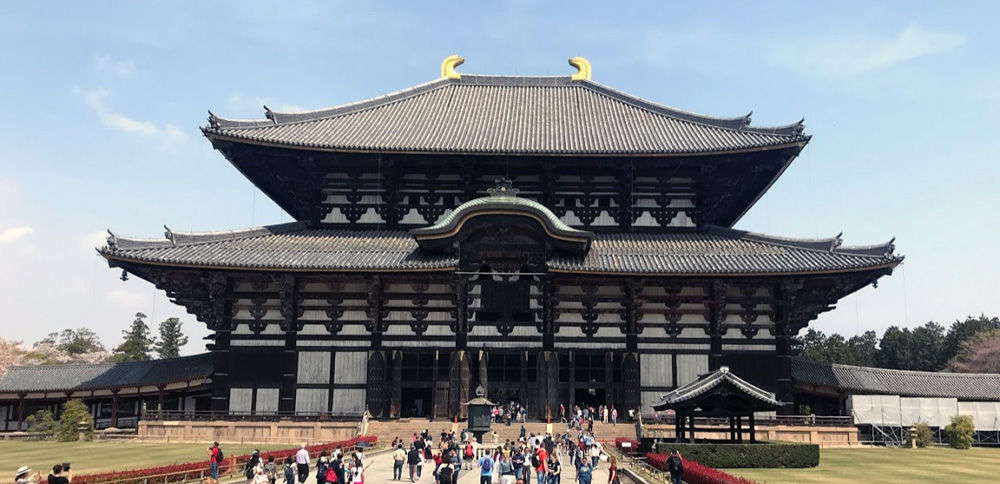 By 7:30, we were hustling across the street to Osaka Main Station, where once again, we found ourselves in the middle of thousands of people. Despite the constant bumping into people, the jostling of bodies as we're funneled through the hallways and up and down escalators, it's all done in a very polite manner. We had a fun exchange with a group of school girls, maybe 12 or 13 year olds, who were just in front of us as we stood on the platform waiting for the next train to arrive. All the stations have markings on the floor which tell you where to line up for each car of the train. This is what brings order to the chaos, and the precision of the train drivers to stop at just the right place is completely amazing. This particular morning, the crowd coming down the escalators was pushing into the crowd standing at these first set of floor markings, and these girls were considering dashing over to the next line as more and more people crowded into ours. But as the train was pulling into the station we could see into the approaching car, and it seemed that more people would be getting off the train at that second marking, so the girls tried to squeeze back into our line, right in front of us. Nicci and I of course let them in, while the girls giggled, consulted their smart phones, and turned to say "Thank you", accompanied with the multiple bows that Japanese culture requires.
Once on the train, we had to stand as we traveled through the city of Osaka. There are several ways to get to Nara from Osaka, and I wasn't sure which way made the most sense for us. We mistakenly got off at one station, and then realized that we would've been better off staying on the train, so when the next local train came along, we were back on. As this train gradually left Osaka, a conductor came along and told us we would have to move up forward to another car. We found out why at the next stop, as the train was split in half, and only the forward cars were continuing on to Nara. The train was still crowded, and we still had to stand, but now we were in the last car and could watch out the back of the train as we cruised through more rural areas.
Because we had made the mistake of getting off the train too early, our hour long trip had taken us about 90 minutes, but thanks to our early start, we still arrived in Nara by 10:00am. Nara Park is one of the oldest and largest parks in Japan, covering around 1500 acres, and just like we saw on the island of Miyajami, about a thousand deer have free reign of the green space. We used a city bus to cover the mile distance between the train station and the park, and then walked along the bordering streets. Having spent much of the day before wandering through forests and gardens, we didn't feel a strong need to go too far into Nara Park, and instead were content to browse a few shops as we moved towards Todai-ji Temple.
The temple is a short distance from Nara Park, and is surrounded by an enormous entrance gate. At first glance, it seems that the gate might be the temple itself, given it's massive size. But once through the gate, you realize that Todai-ji Temple is still a few hundred yards away, and it's size is incredible. It costs a few thousand Yen to enter, but certainly worth it. Construction on this magnificent building started some 1200 years ago. It's the largest wooden structure anywhere in the world, and it houses the world's largest bronze statue of Buddha. It's incredibly impressive, and we enjoyed our time spent both inside the building and walking around it's massive walls.
By noon, we had worked our way from the temple, through village streets, and found ourselves back in the neighborhood of the train stations. Nara has two stations that are only about a block apart. The line that we had come in on is owned by the Japanese Rail Company, which allowed us to use our JR Passes to ride for free from Osaka. We now wanted to go to Fushimi Inari Shrine and the most direct route was to take the Keihan Main Line, which is owned by another rail company, and not covered by our passes. We treated ourselves to ice cream sandwiches, and then figured out how to use the automated ticket machines at the second rail station. By 12:30 we were on our way north through farms, past more temples, and along the outskirts of Osaka to the edge of Kyoto. We had to change trains at a small station, and transfer to another local train to take us the remaining couple of miles to the shrine.
Fushimi Inari Shrine, 4/3 Photo Gallery



The station was not a Japanese Rail Company station, and it was the first that we had seen that had no information booth, or no helpful agents watching and helping at the turnstiles. We had also gotten accustomed to having wifi at JR stations, but this one did not. We knew what station we needed to get to from here, but we could not find the name on any of the route maps or ticket machines. One thing that we did learn on this trip, is that sometimes names like "Shin Kobe" are the same as "Shinkobe" and "Shin-Kobe", and sometimes they're completely different. This time we were looking for "Fushimainari", when we should've been looking for "Fushimi-Inari". It sounds simple, but the small English words on the signs tend to get lost in the large font Japanese symbols. After a few frustrating moments, we went up the stairs to street level, where we found two business men coming out of an office next to the station. It was obvious they were in a hurry, but they took the time to look at my phone which had a static picture of a map. One of them explained what we needed to do at the ticket machines down at the platform level, but our perplexed faces told him we didn't understand what he was saying. So he rushed down the stairs, punched the right buttons into the machines, and made sure we got the appropriate tickets, and then pointed to make sure we were on the right platform, before hustling back up to continue his busy day. His kindness and willingness to help two strangers in his country is something Nicci and I will always remember.
We only had one stop to go on the second train, and within minutes we were back on the streets, walking along with the crowds to the Fushimi Inari Shrine. We had to walk through narrow alleys, lined with food booths, selling kabobs and various types of fruits and drinks. It smelled delicious, but we weren't brave enough to try anything. One thing that we noticed here were the number of girls, maybe late teens to early twenties, in traditional kimonos. We had seen a few wearing these colorful dresses the day before at the Bamboo Forest, but not nearly as many as were present today. We likened it to prom season that we have here in the States, where in spring time you'll often see young people posing for pictures at the local scenic spots in their fancy dresses and tuxedos.
After a short walk, we emerged from the crowded corridors to the path that led up to the Fushimi Inari Shrine. The path through the thousands of orange gates winds it's way up a hill, doubling back on itself at various points. The beginning of the path is quite crowded, but it certainly thins out the further you go along as people decide they've seen enough. We made it maybe halfway through before deciding to duck out ourselves. It was now around 2:30 and our legs were telling us that we'd done enough sight seeing for one day. Returning to our hotel required three short train rides, which we figured out without too much difficulty this time. For the second day in a row, we were back in our hotel by 4:00pm, and asleep for the night shortly after.
Osaka to Tokyo, 4/4 Photo Gallery



Wednesday morning started early again for us, and we were first in line again for the breakfast buffet on the 29th floor. We then checked out of the Hilton Osaka, crossed the street, and merged in with all the other commuters and tourists on the 4 minute ride to Shin Osaka Station. We had some time to watch all the trains coming and going, before boarding an 8:45 express shinkansen for Tokyo. The train makes only a few stops and covers the 600Km in about 2 and a half hours. It's possible to see the famous Mt Fuji from the tracks, but that does require a crystal clear day. That wasn't the case for us, however. It was cloudy, and we were sitting on the wrong side of the train, as we zipped by. We had set aside Thursday or Friday to travel back from Tokyo to Hakone, where we could then take local trains to the base of Fuji. Unfortunately, the weather, which had been spectacularly sunny for the first part of our week, was not looking so good for our remaining days in Japan.
Tokyo Station would have completely overwhelmed us, if we had not spent the past couple of days negotiating the Osaka stations. Tokyo Station has more than 3,000 trains per day running through it, including the shinkansen lines, several different private railway companies, and the incredible network that makes up the Tokyo Metro subway lines. Nicci and I decided that tourists visiting Japan should do what we did, and spend sometime somewhere else besides Tokyo. One needs to build up some confidence in order to negotiate the space that is Tokyo Station.
It was too early to check into our hotel, so we stashed our backpacks in a locker, and decided to knock off one of the many things we had planned for our stay in the city: the Tokyo Skytree. The Skytree is a radio tower, built in 2012, and is over 2,000 feet tall; it's the second tallest structure in the world. It's the modern version of the Tokyo Tower, which is similar in shape and design to the Eiffel Tower in Paris. I have fond memories of going up the Tokyo Tower in 1976, and although I was anxious to do that again, the modern Skytree was at the top of my wish list for this trip.
Tokyo Skytree, 4/4 Photo Gallery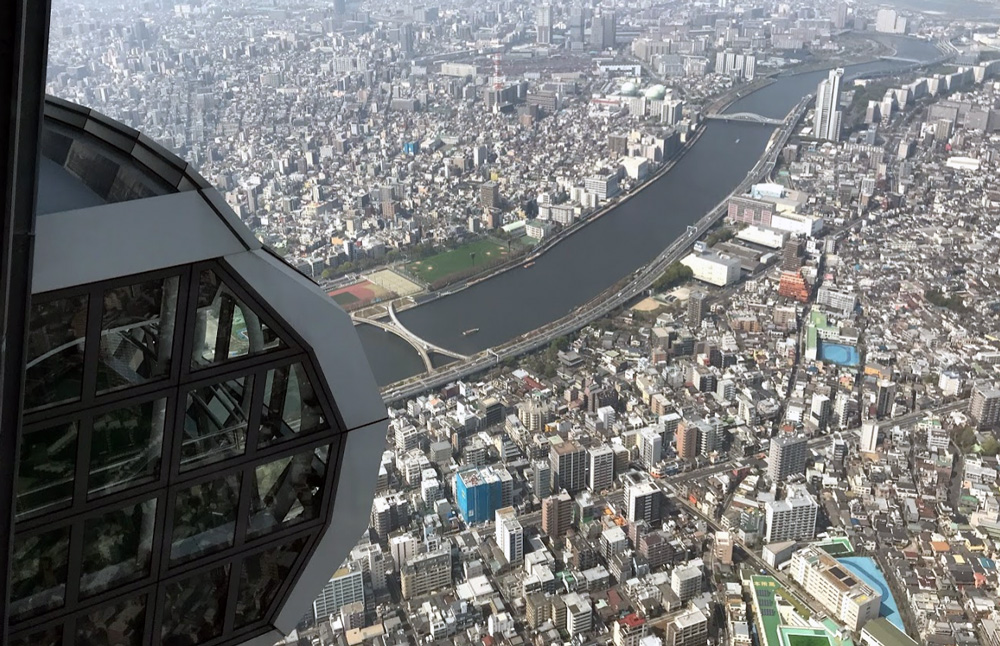 The most direct way to get to the Skytree was to take the Asakusa Subway line. Most of the subway lines that we would take over the next few days were not part of the JR system, so we had to use "Passmo" cards. We had received two Passmo cards along with our rail passes before leaving Georgia, that were pre-loaded with about 2800 yen, or slightly more than $25. We used these cards to tap the turnstiles as we entered and exited stations, and the appropriate amount was automatically deducted. The cards can then be refilled as needed at automated machines. It's a clever system. These cards can even be used in vending machines, 7/11's (which are present on almost every corner in Japan), and even in taxi's, which we never had a reason to try. The cards are good for ten years, so we've kept ours, and hopefully we'll get more use out of them some day.
We found the station easily enough, and then rode underground, through a dozen stops, before exiting at the foot of Skytree. Standing right underneath the tower, it's almost impossible to see all the way to the top without falling over as your neck buckles, straining to take it all in. There was a fairly lengthy line to go up, but fortunately for us, around a corner was an entrance for foreigners, with an expedited line. There are two levels of observation platforms, and we bought our tickets for the very top, and within minutes were on top of the world. It's stunning, and really gives you the sense of how big Tokyo is. The city of 35 million people extends to the horizon in all directions. On clearer days, we may have been able to see all the way to Mt Fuji. We spent about an hour up in the Skytree before descending down to browse through the souvenir shops.
Tokyo Villa Fontaine Hotel, 4/4 Photo Gallery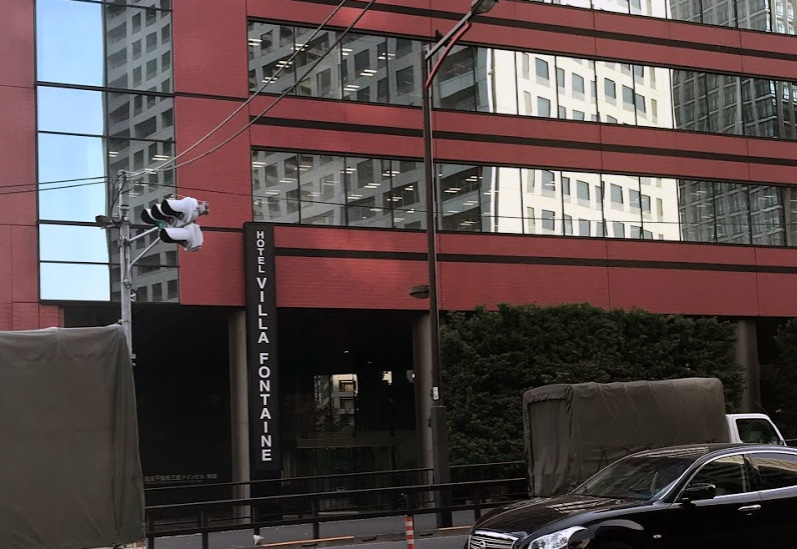 By 2:45, we were heading back down to the subway, backtracking our way to Tokyo Station. We picked up our bags and then wandered around the massive station before finding the correct Metro Line to take us to our hotel. We chose the Villa Fontaine Tamachi Hotel for it's proximity to two separate rail lines; we frequented both over the next few days. The hotel itself was not quite as nice as what we had experienced in Kobe or Osaka, but it was comfortable enough. Our room on the 16th floor provided decent views, and I enjoyed just watching the shinkansen trains racing by on the tracks just a block away. We ordered a Domino's pizza, which was delivered by a young man on a scooter, and we enjoyed it in our room while watching some Japanese baseball game. Before bed, we checked the weather reports for Fuji, and decided that Thursday was going to be cloudy with low visibility. That didn't bother us so much, as there's plenty to do in Tokyo. We were asleep by 7:00.
Tsukiji Fish Market, 4/5 Photo Gallery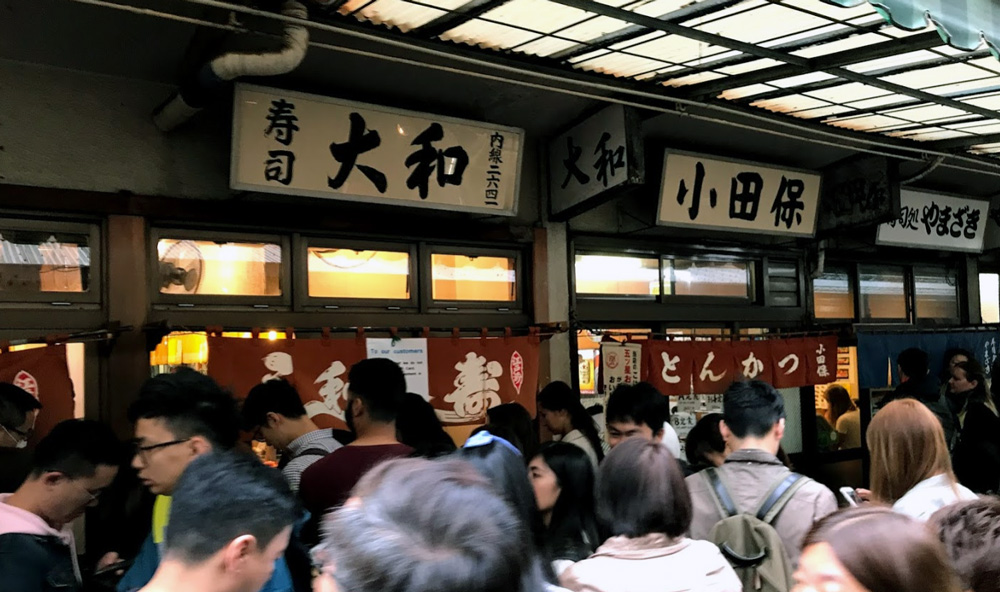 The hotel breakfast was more than adequate, and by 7:30am we were walking to the other station that was close to our hotel. To get there, we had to cross the tracks and as we were coming down the opposite side on the bridge, we got our first look of Tokyo Tower. We hadn't seen it the night before, because we had come in from a different direction, and the tall buildings surrounding our hotel and the tower blocked our view. Incidentally, the rise of surrounding skyscrapers necessitated the construction of the Tokyo Skytree, as the Tokyo Tower, which was built in the 1950's, could no longer broadcast uninterrupted TV signals across Tokyo. While undoubtedly the Skytree is an engineering masterpiece, worthy of every accolade, there is no question that the Tower remains the premier iconic image of Tokyo.
Another popular place in Tokyo is the Tsukiji Fish Market, and this is where we were headed this morning. We took a short subway ride, and then walked a few blocks before joining the crowds at the market. Food shops line the alleys around the market, with hundreds of people lining up around their favorite sushi places. It seems that every restaurant in Tokyo gets their daily fish from this market, and it's a frenzy of activity, with forklift drivers weaving in and out of tourists and those looking to purchase the catch of the day. The public is prohibited from going back into the warehouses before 10:00am, and although we suspected this is where the real action takes place, there was plenty for us to see in the alleyways. Still, by 9:00am, we were ready to move on.
Tsukiji Honganji Temple, 4/5 Photo Gallery



Adjacent to the fish market lies this interesting Buddhist temple. The original building was constructed in this location during the 17th century, but it was destroyed by a fire. The current structure was built in the 1930s, and seems a mix of colonial and traditional architecture. Also close by, while walking to the Metro stop, we discovered a monument to therapy dogs in Japan.
Imperial Palace, 4/5 Photo Gallery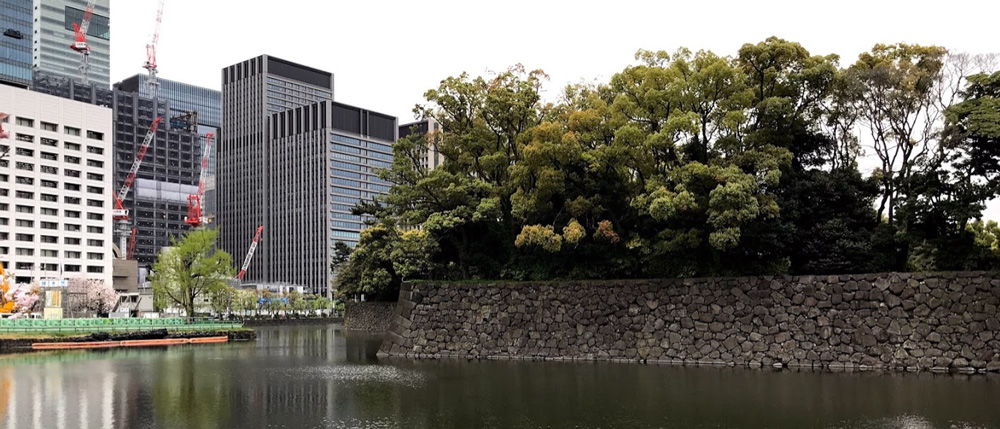 Our next stop was the Tokyo Imperial Palace, which is the home of Japan's Imperial Family. The palace is located in central Tokyo, on the site of the Edo Castle, which was the previous residence from the early 1600s to the mid-19th century. The palace is still surrounded by a moat and 30 foot stone walls. Inside the walls, is a large green space, with gardens and walking paths around remnants of the old castle. We spent a good 45 minutes walking around the park, and then headed back out to the city streets.
Museum of Modern Art Tokyo, 4/5 Photo Gallery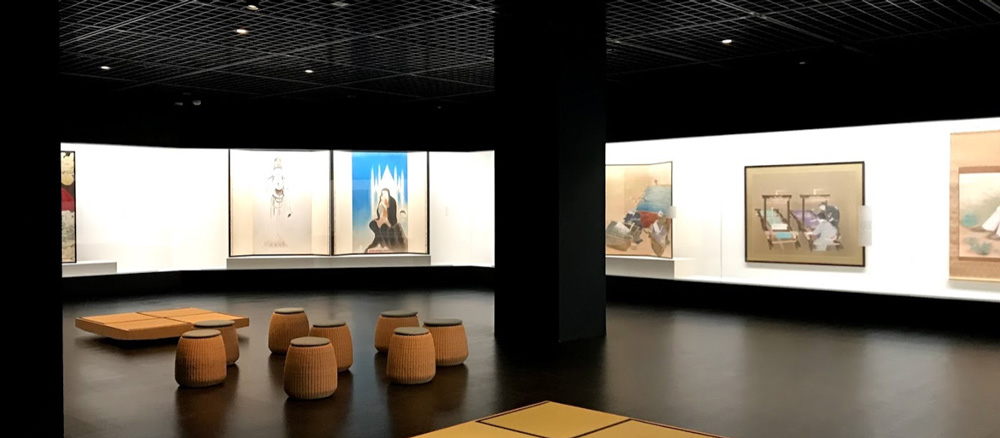 We were slowly walking towards an art gallery/supply shop that Nicci was hoping to see, but we got sidetracked when we saw a sign for the Tokyo Museum of Modern Art. We paid a few thousand yen and then enjoyed browsing through the exhibits. Our tickets gave us additional access to a sculpture display in a building that was a few blocks away, so we meandered up the street to catch that as well. At some point as we were walking on the sidewalk, a group of go-karts sped past us on the street. There were 7 or 8 of them, with some of the drivers dressed in Mario Kart uniforms. Apparently, there's a company that offers these go kart tours of Tokyo. We would see them speeding around the streets in different parts of the city over the next few days; always an amusing sight.
By 1:00pm, we had seen enough of the art galleries, but since we were so close, we decided to find the small gallery that Nicci had wanted to go to in the first place. We eventually did find it, tucked away in a very narrow building on a busy city street. It wasn't quite what we expected, and the gallery part of it was closed. The shop next door offered a variety of artists tools, but didn't seem to cater to people like us, so we didn't stay long.
Yurikamome Line, 4/5 Photo Gallery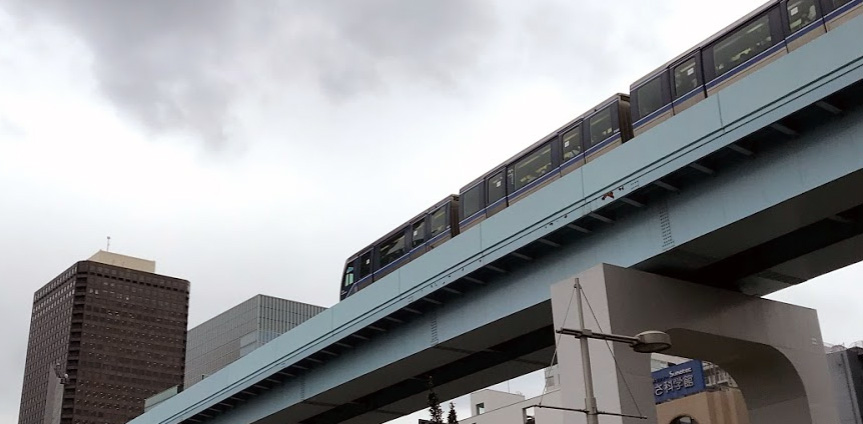 Tired of walking, but still wanting to see the city, we found our way to the Yurikamome Line, which is an elevated train that runs along the Tokyo waterfront and across the famous Rainbow suspension bridge. The train is completely automated, controlled by computers with no on-board drivers. The route passes through 16 stations, and goes through some very unique, architecturally appealing buildings. At the end point, we were able to move up to the front of the train for the return journey. We were joined by a couple of young boys, traveling with their families who sat a few rows behind us. The boys were very excited about the train, and also getting to know us foreigners. They spoke very good English; they told us they went to an international school. Their politeness and precociousness made for a very pleasant ride.
Shibuya, 4/5 Photo Gallery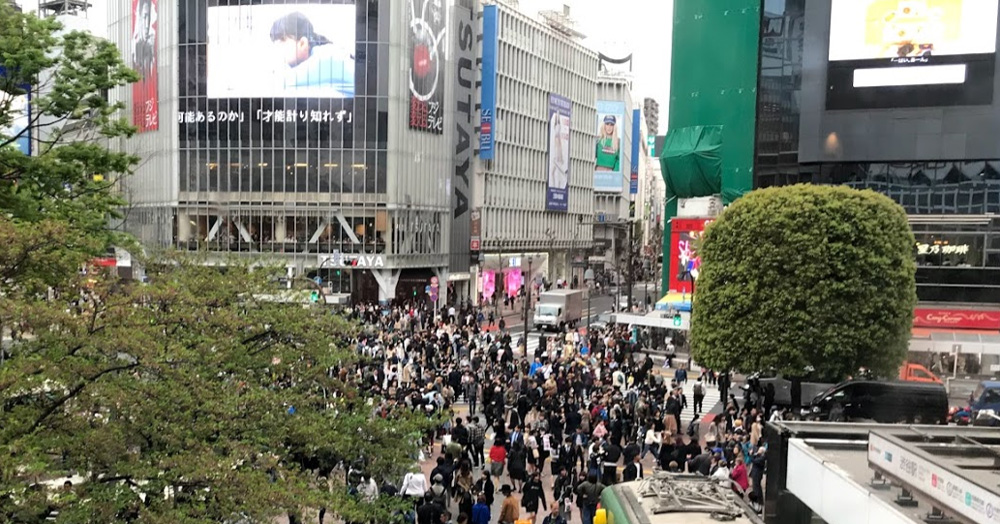 It was around 4:00pm by the time we exited the train, and although we were tired, we weren't quite ready to call it a day. We were getting comfortable navigating the city, and decided to visit Shibuya, the commercial district known for it's busy crossing. It's said to be the busiest street crossing in the world. Whether that's true or not is probably up for debate, but it certainly is something to behold. Once the lights change at the intersection, thousands of people cross from all directions. It's like the crowds from Osaka or Tokyo stations are all of a sudden here, in the streets, and then the lights change, and the streets empty so automobile traffic can resume. A few minutes later the scene repeats itself. The large video advertising screens on the buildings add to the lively atmosphere, making it another one of Japan's iconic places. It certainly energized us, and we felt like we had enough for one more adventure before calling it a day.
We left Shibuya shortly after 5:00, and took two subway lines towards Tokyo Tower. We may have gotten off at the wrong station, because when we emerged from underground we realized that we had a ways to walk. It was confusing also, because we couldn't see the tower from the narrow streets. But eventually, we turned a corner, and saw the tower practically looming over us.
Tokyo Tower, 4/5 Photo Gallery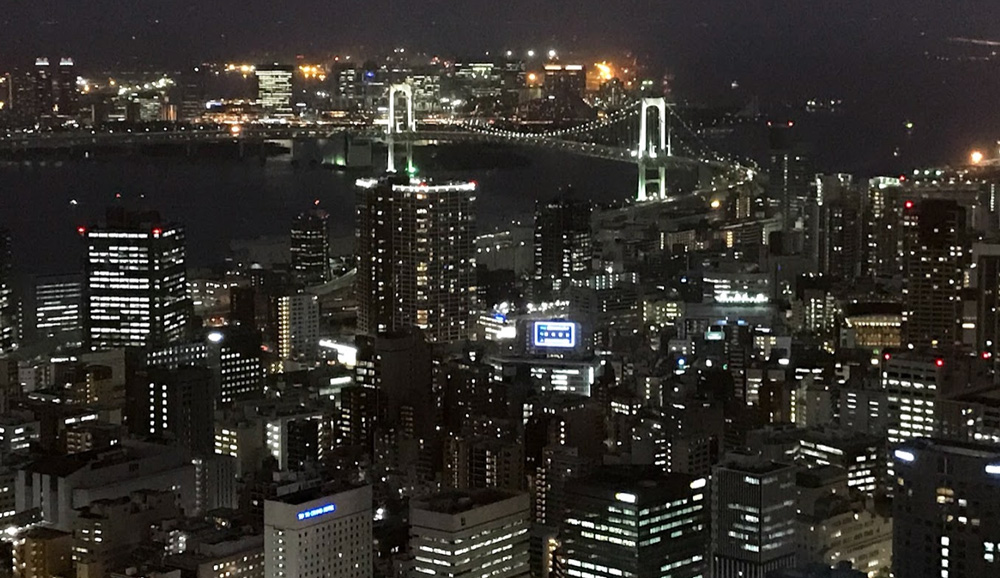 Like the Skytree, there is an expedited line for foreigners. Unlike some countries, Japan tends to treat strangers very well. By 6:00pm, just as the sun was setting, we were in an elevator to the top. As much as we enjoyed the Skytree, we loved Tokyo Tower. Maybe it was the time of day; getting to see the lights coming on all over the city. Maybe it's because, in Skytree, you're so high up you're almost disconnected from the city below, whereas in Tokyo Tower, you feel more like you're floating just above the city, but still attached. Where Skytree shows off Tokyo's immense size, the Tower shows the city's heartbeat, with the lighted streets and rail lines snaking through much like arteries, pumping blood through the body, keeping the city alive.
By 8:00pm, we were back in our hotel, reflecting on a very productive and enjoyable day.
Oriental Bazaar, 4/6 Photo Gallery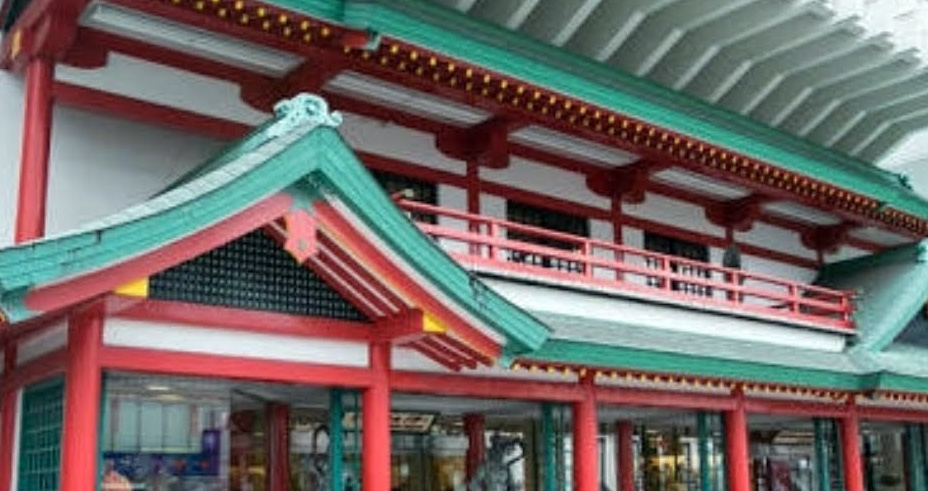 Friday morning we actually slept in, and didn't go down to breakfast until almost 8:30am. Our plan for the morning was to do some shopping, looking for some traditional Japanese paintings, as well as some souvenirs. We were starting to figure out how to read the Metro subway signs, and the chaotic maze of train lines was starting to come into focus for us, so we had no problem getting across town to the Oriental Bazaar. We had researched this store back in Georgia and figured it would have the kinds of paintings that Nicci was looking for. But we got there before it opened, so we spent some time in a Starbucks down the street. Eventually the doors opened to the store, and we found a couple of small items worth purchasing, but not the paintings that we had hoped for. The store owner referred us to another shop just down the street, and so we headed that way, and sure enough, they did have several paintings that Nicci was looking for.
It was just before noon when we left the commercial district, taking the Metro back towards Tokyo Station. Again, it was an overcast day, and we had already resigned ourselves to the fact that we would not be seeing Mt Fuji on this trip. In light of that, we were looking for things to do for the afternoon. We got off the subway at Ueno Station, another major rail hub in the northern section of Tokyo, and on a whim reserved two seats using our JR Rail Passes on a shinkansen to Niigata.
Tokyo to Niigata to Tokyo, 4/6 Photo Gallery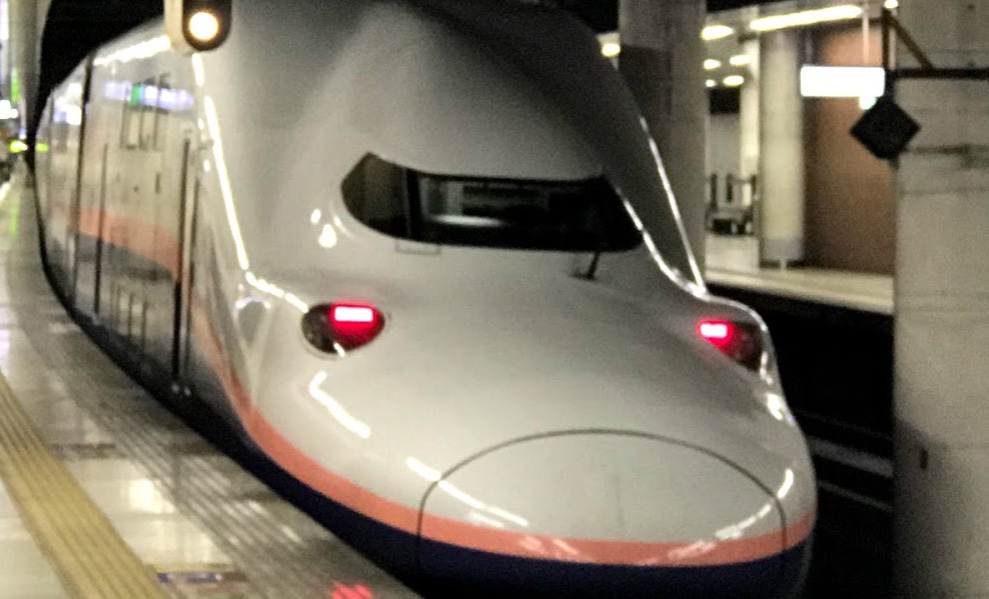 We headed down to the track level to wait for our train. We were amazed at the variety of shinkansen trains coming and going. Up until this point, we had really only seen the trains from the JR West Company, but the Ueno Station is a connection point for the rail lines that go north and west. The shinkansen trains from these lines came in all different shapes and colors, and we even saw a few double decker bullet trains passing through.
Niigata is the biggest city on Japan's west coast, located about 400Km northwest of Tokyo, just on the other side of the "Japanese Alps". If we were spending another week in Japan, Niigata would definitely have been on our must-do list, but with only an 8 day itinerary, there was simply not enough time to squeeze this region in to our plans. But with Fuji now out of our equation, a quick trip to Niigata, where we could see more of the Japanese landscape while resting our legs in climate controlled comfort, seemed like the perfect afternoon activity.
Our train arrived precisely at 12:46pm, and much to our pleasant surprise, it was a double decker shinkansen! Unfortunately, the seats we reserved were on the lower level, but noticing that the car was not quite half full, we found two empty seats on the upper level. As we were rolling out of the city, the conductor came by, and we worried that he would send us back downstairs, but he just noted in his handheld machine where we were and moved on. The scenery changed from urban to rural, and soon we were flying past farms, and then through smaller cities again. Shortly after that we were shooting through tunnels, and then a really long tunnel - the longest railway tunnel in the world when it was built in 1982. When we finally emerged into daylight, we were surrounded by snow covered mountains. The train slowed and we were pulling into a station. Then we were back into another series of tunnels, and eventually back out into flatlands and into the city of Niigata.
The station in Niigata was underneath a shopping mall, and we spent some time browsing before finding a cafe for lunch. Outside it was raining and very windy, and the temperature was hovering around 40 degrees. We must've looked pretty odd in our short sleeves and short pants. We would've liked to venture out to the coast, which was only a few miles away, but we certainly weren't dressed for it, so after barely an hour we were back on the double decker shinkansen to Tokyo.
Akihabara, 4/6 Photo Gallery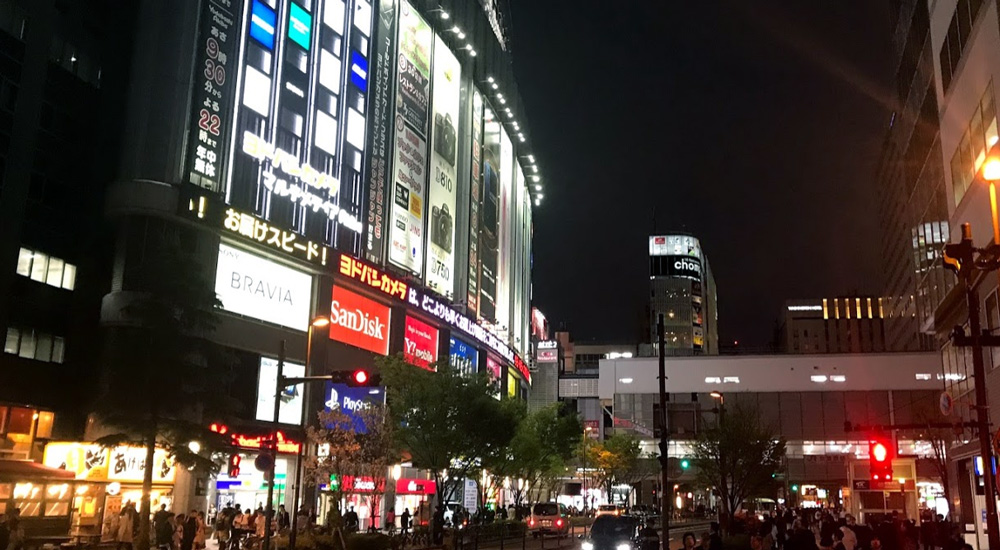 When we exited at Tokyo Station a little after 6:00pm, we decided we still needed some souvenirs, so we took the Metro to the Akihabara District, known for it's electronics and gaming stores. The store we entered completely overwhelmed us; 8 floors of wall to wall games, toys, Lego's, electronics, DVD's, etc., etc., We wandered aimlessly, knowing that what our kids might want was undoubtedly here, but having no idea what that was or where to find it. We were anxious to escape the place, and left feeling somewhat defeated. But it was fun to be a part of the lively streets outside, with people moving everywhere and the bright lights from the advertisements flashing all around. The walk back to the subway kept us entertained, but we were ready to call it a day. We were back in our hotel by 8:00pm.
Tsukiji Fish Market, 4/7 Photo Gallery



We slept in again, not starting our last full day in Japan until 8:30am. Having struck out the day before on finding the perfect souvenirs, we decided we needed to go back to the Tsukiji Market to get the sushi bowls we had looked at a couple days ago. We were there by 9:30am, found what we were looking for, and this time decided to go into the warehouses that we had skipped the last time. It was everything you'd expect from a fish market, with all varieties of sea animals on display, some in the process of being butchered. Apparently though, not everyone expected such a mess as we overheard an American woman saying "I wish they'd keep this a little neater" as she tiptoed over fish guts in her high heeled shoes.
We returned to our hotel to drop off our purchases, and then Nicci suggested that I go knock off one of the things on my "to do" list while she napped. As a lover of airplanes, I had wanted to take the train out to Haneda International Airport. We would be leaving the next day but flying out of Narita, Tokyo's other airport. Haneda is located much closer to the city, and wasn't far from our hotel. I knew just the train ride out would be fun, so with assurances from Nicci, I took off.
Haneda International Airport, 4/7 Photo Gallery



I wasn't disappointed; the train went through a part of the city we hadn't been in before, and then passed through some industrial areas before going under the airport terminals. I wasn't sure how far I could go in the terminal without having a boarding pass, but I kept taking escalators up, and all of a sudden I was on a rooftop observation deck, overlooking all kinds of airplane action. It was thrilling to see. It was also very chilly, and once again, I was only in shorts as the morning had started out as a sunny day. Still, I managed to last up there along with all the other aviation enthusiasts for a good half hour, seeing all kinds of planes from around the world. I probably could've spent a few hours up there, but not wanting to be gone from Nicci for so long, I headed back to the hotel.
Once there, Nicci still wasn't feeling great, but thought some food might help. There was a McDonald's a few blocks away so I ran out and picked up a couple of burgers, which we enjoyed back in our room. One of my goals on this trip was to send a Japanese birthday card to Matthew, who was turning 19 the following week, and although I had looked at a variety of stores in all the places we'd been, I still hadn't found what I was looking for. The closest I'd seen was back at the massive Akihabara department store. Nicci suggested I go back while she rested some more.
Tokyo, Last Night in Japan, 4/7 Photo Gallery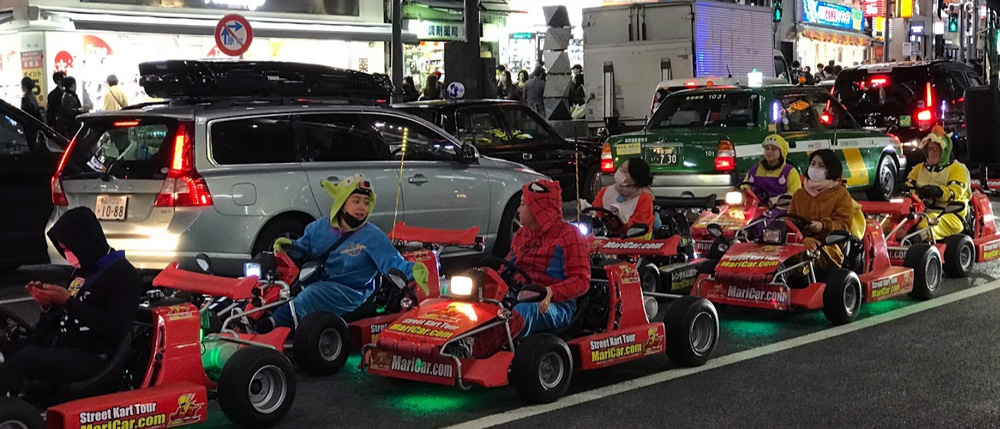 I took the Metro back to Tokyo Station, and before transferring to continue on to the shopping district, I ran out the West side of the station to take a few pictures of the impressive brick facade of the original station, built in the 1920s. Up to this point, we had only seen the interior of the station as we changed lines, or the east side, which has a very modern facade. I then went a different route to Akihabara, and walked on street level next to the tracks. Tucked uner the tracks are a series of small restaurants that were buzzing with activity. Once again, I was wishing that we had more time here so that we could've tried some of the restaurants. But for the moment, I just enjoyed the smells as I walked back to the store. Along the way, I stumbled onto a book store, and actually did find something that seemed like it could be a birthday card. Feeling a little more satisfied about that, I headed back to the train station where I could get on WiFi and check text messages. I was happy to see a message from Nicci, saying she was ready to go back out for our last night in Japan.
We decided the place where we felt the most energy was at Shibuya Crossing. Seeing it now on a Saturday night, with the surrounding buildings lit up with advertisements, it seemed appropriate that this would be our last image of Tokyo nightlife. We found a spot in one of the coveted viewing places of the crossing: a second floor Starbucks, and soaked in the atmosphere. Far too quickly, it was time to head back to our hotel.
Narita Express, 4/8 Photo Gallery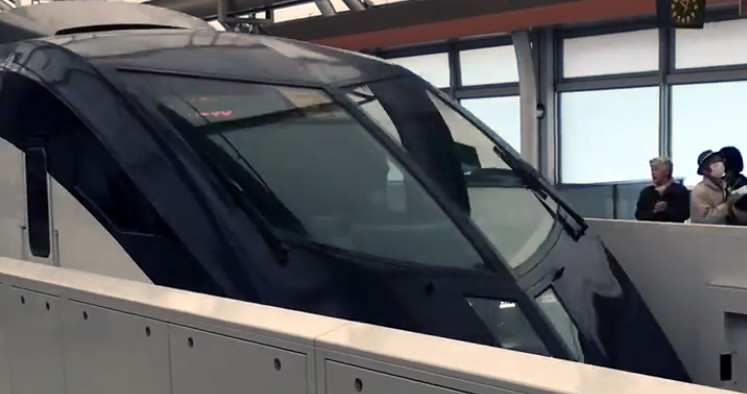 We took our time Sunday morning, enjoying one last breakfast, before checking out of the Villa Fontaine hotel around 9:00am. Then it was back on the Metro, up to north of Tokyo, where we transferred to the Narita Express train to take us the 45Km out of the city to the airport. The express train was non-stop, snaking it's way through the suburbs, giving us one last look at the Tokyo Skytree and the city beyond. By 11:00am, we were in the airport terminal, with almost 4 hours before our flight back to the States.
Tokyo to Detroit to Atlanta to Home, 4/8 Photo Gallery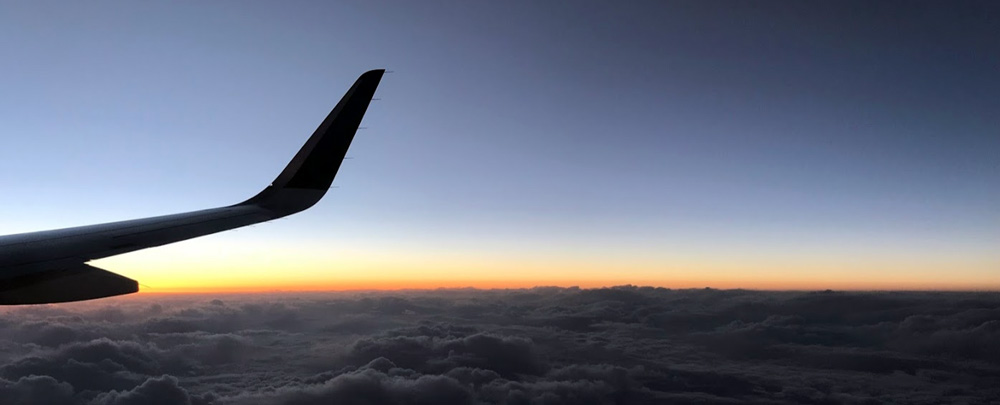 We weren't necessarily ready to leave, but we were looking forward to our flight home on the Airbus A350, and sitting in premium economy. Nicci and I were both very impressed with Delta's attention to detail, serving us meals on real tablecloths, with real silverware. It seemed like a throwback to the Golden Age of air travel, back in the 1970's, when this kind of service was commonplace. Combined with the extra leg room, and not having anyone else sitting next to us, we soaked up the luxury and vowed that any future flights over 6 hours would have to be in this kind of cabin.
Since we were heading for Detroit, I watched the movie "Detroit", and then the Chevy Chase classic, "Vacation". I also enjoyed just gazing out the window as we cruised over Anchorage, Alaska. The flight itself was smooth; the A350 quiet and comfortable, and went back in time. We had left Tokyo at 4:00pm, but we landed in Detroit at 2:00pm. That kind of time zone shifting can create havoc in one's body, and after clearing customs in Detroit, we found a quiet place in the terminal to stretch out and nap for a bit. We had almost 5 hours before our flight to Atlanta.
Back in regular economy on an A320 for the second leg really made us miss the space of the A350, but it was only two hours, and actually was a pleasant flight as well. We now had two more hours to wait before our 45 minute flight back to Augusta, which turned out to be a wonderful experience. Because the Masters Golf Tournament had been going on all week in Augusta while we were away, Delta was sending larger planes to ferry away all the golf fans who would be leaving Monday morning. That meant our short flight home, which is usually covered by an MD-88 or worse, a CRJ-200, would be on a Boeing 757. It's a bit like calling for a taxi and instead getting picked up by a limousine, not that that's ever happened to me. There were about 20 passengers on board this plane meant for 200, so we stretched out, relaxed, reflected on our past week, and dozed until landing in Augusta just after midnight. By 1:00am, we were back in our own bed, dreaming of our next adventure.