Mark and Nicci's European Adventure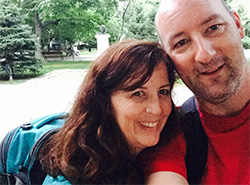 When Nicci and I first got together last September, one of the many things we discovered about each other was a common love of travel. We each possess an adventurous spirit. We've had experiences exploring parts of the globe as individuals, and both of us have a long list of places that we want to visit in the future. As our relationship grew last fall we continued to talk about where we could go, and what we could do.
The planning for this trip started then, back in November, 2014, with a list of about a hundred countries. One important destination for Nicci was Romania. Nicci had been there several years ago to visit a very good friend and wanted to share that experience with me by visiting her friend's home in the Carpathian Mountains. I didn't need much convincing, as I've never been anywhere in Europe, so Romania went to the top of our list.
One of the top items on my "bucket list" has always been to ride the Bernina Express, a narrow gauge railroad that goes up and over the Alps connecting Switzerland and Italy. I can remember some 40 years ago looking through a train book and marveling at a photo of a towering stone arch bridge that then tunnels into a massive rock wall on one end. I always thought that someday I would go there. Nicci was all for it, so the endpoints of that railroad line, Zurich and Milan, made our list.
The list at this stage in the planning still contained every city from Edinburgh to Gibraltar. We needed to whittle it down somehow. We each researched on our own, and amazingly we both came back with Barcelona as the top spot. Nicci and I have found that we often have common thoughts and seem to be thinking the same things at any given time.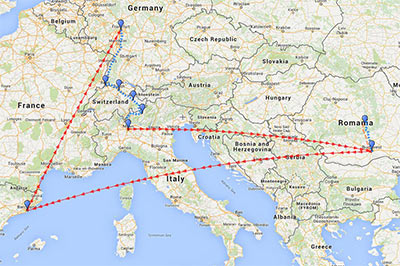 Now we just needed to find an entry point to Europe. Not only do I love travel, but I love the process of finding the best routes to travel. I love trains, and I love airplanes, and I love maps and time schedules and calculating distances and rates between cities. I love the challenge of maximizing days to get the most out of every stop. And I love that Nicci has accepted and embraced this somewhat quirky passion of mine, and I'm forever grateful that she put her trust in me to develop our wish list into an actual working plan.
When I start looking at possible flights, I not only look at pricing, but at such things as the type of aircraft, or the time of day it departs and arrives, so that we might have the best possible view of the landscape below. I found many possibilities into Europe. The cheapest was actually to fly Aeroflot from Washington, DC, to Moscow, and then on to Barcelona after a 12 hour layover. Unfortunately, further research revealed that we'd need a visa to explore Moscow even for a few hours and that put the cost out of reach. So Moscow will have to wait for a future trip.
Another possibility was to fly on a Singapore Airlines Airbus A380, the world's biggest passenger plane. I had flown on one of these last year when I went to visit my daughter Jacque in Cambodia, and I loved the service of Singapore Airlines, and the experience of the A380. This would leave from New York's JFK airport and take us to Frankfurt, Germany. When I told Nicci about this option, she was so excited for me for getting to fly this plane again, and also for the chance to spend time in New York City, a place where she had never been. So that settled it.
By February, 2015, we had an itinerary. I'm sure it seems to some like too much, too hectic, too crazy to cram all this into ten days, but for Nicci and myself, it proved to be an absolutely perfect trip.
Our adventure started early; up and out the door by 4:00am. Special thanks to Jacque for getting up with us to drive us to the airport in time to catch our 6:20am flight to Newark. The flight was smooth and on time, and we had excellent views of Newark as we landed. Unfortunately, the better views of the Manhattan skyline were on the other side of the plane, but we would be seeing those skyscrapers up close shortly.
We took the AirTrain from Newark Liberty to the Newark Airport Railroad Station where we had to wait about ten minutes before catching a PATH (Port Authority) train to Manhattan. We exited the subway right at Ground Zero, and as we entered the memorial grounds, we were struck by the serenity and calm that the two reflecting pools provide in the middle of the city. Nicci had a friend from college, Todd Beamer, who was killed in the crash in Pennsylvania and it was important for us to find his name located on the south pool. Todd is remembered for leading the charge against the hijackers, using the rallying cry of "Let's roll!" as a group of passengers stormed the cockpit, forcing the plane away from the intended target.
After about 45 minutes at the 9/11 Memorial, we began walking east towards the Brooklyn Bridge. It was just after 10:00am and we really hadn't eaten since the crackers we had on our flight, so we found a Starbucks and sat in the park in front of City Hall. After devouring a ham and cheese, we began our walk over the most architecturally significant suspension bridge in the world.
From the base of the Brooklyn Bridge, we caught the subway and took it underneath the East River and got off at the 8th Avenue stop back in Manhattan. We then walked several blocks to the south end of the Highline Park, which is a 1 ½ mile walking path surrounded by gardens and sculptures that has been developed from an abandoned elevated railway.
We exited the Highline near the Hudson River on 34th street, with clear views of the Empire State building about a ½ mile away. We started walking that way, past Madison Square Garden, and finally stopping in Herald Square, a perfect place to sit and people watch and take in the endless stream of New Yorkers.
Our flight to Frankfurt was not until 9:00pm, but by 2:30 we were feeling like we'd already seen plenty of New York. We'd walked close to 10 miles already and were definitely feeling the effects of 90 degree heat, so we decided to head for the airport. From Herald Square we took the subway to Jamaica Station where we transferred to the AirTrain to take us to Terminal 1 at JFK. Once in the terminal, it seemed we were too early to check in – we still had six hours – but as we were walking away from the Singapore Airlines counter wondering where we could find a comfortable place to wait, a security lady called us back. They were just opening. But being the only ones there at the counter, the Singapore Airlines lady might have had too much time to deal with us, as she questioned the weight of our backpacks. Turned out to be no big deal but we did have to shift a few things from one bag to another to meet her approval, but then we were clear and made it through security with no further issues.
Nicci and I both enjoy people watching at international airports. There's always something to see, so we spent the next several hours just relaxing, and then enjoyed a good meal in a restaurant overlooking the planes coming and going.
Once on the plane we enjoyed the amenities of the A380 and the legendary service of Singapore Airlines. I'm not sure we slept too much though – at least I didn't. As big as that plane is, the seats still aren't conducive to 6'5 guys.
We landed in Germany right on schedule around 10:30am. We were both exhausted, but excited. Nicci had spent some time in Germany in high school but for me, this was my first time to Europe. Clearing customs was a breeze and we followed the signs through the airport to the connected train station. We were headed directly to Zurich but needed to buy tickets. We stared dumbly at an automatic ticket machine and were about to give up before a gentleman, who was witness to our confusion, came over and pushed the right buttons, and just like that we had our tickets.
Our ticket was actually to Basel, Switzerland, and from there we would change trains and continue on to Zurich. In Frankfurt, we had about an hour to wander the station under the airport before boarding the train to Basel. Our seats were reserved, which was fortunate, as the train was crowded and many people were standing. We were facing backwards, but at this point, after having slept very little the previous 28 hours, we were just glad we didn't have to stand. The train remained crowded until the stop at Karlsruhe, where the train almost emptied and we were able to move to seats that faced forward. As we neared Switzerland, a group of policemen came down the aisles and they stopped and questioned the young man sitting across the aisle from us. We couldn't tell exactly what was happening but it seemed there was a question about a bag that might have been left in the overhead compartment. They made him empty his pockets and they checked his own bag before finally deciding that he was all right. When the cops left I looked over at the man and he looked at me and shrugged his shoulders.
We got off the train in Basel at 2:45pm, and were immediately blasted by the heat. Uncharacteristically, the temperature was near 95 degrees, our energy level was running low, and any thoughts of exploring this historically significant city quickly vanished. Knowing that we only had the rest of the day to explore Zurich, we decided that just seeing Basel from the train would have to be enough this time around. But we had a little time before boarding the train to Zurich, so we found a grocery store just across the street from the station. We were just hoping to get a cold drink but the proprietor wouldn't take our credit cards, so we went next door and had ice cream at a McDonald's. It was enough to rejuvenate us, and shortly after we were back on a train and enjoying the Swiss scenery.
Our train arrived at Zurich Hauptbahnhof, the main train station, at about 5:45pm. As soon as we exited that impressive building, and stepped out onto the bridge that spans the Limmat River, our energy level jumped all the way back up. We had a short walk to our hotel, and every step of the way we were awestruck by the beauty of this city. This was quintessential Europe, with buildings dating back several hundred years, modern streetcars, and the river leading to Lake Zurich.
The room we had reserved was not air conditioned. The temperature was still over 90 degrees. Fortunately, the young man at the desk offered us another room with AC, and we were more than willing to pay for the upgrade. We had been going almost non-stop for 30 some hours at this point, but we were anxious to see Zurich. After a quick shower, we were back on the streets, walking along the river towards the lake. We each had a sausage with the best, spiciest mustard, and a beer, and then topped it off with a gelato while we watched the sun set over the city.
We were up early again to have a quick breakfast at our hotel before walking back to the train station. We stopped to take a few more pictures and agreed that we would have to come back and give Zurich another look.
We were on our way to Chur, where I would get to fulfill my lifelong dream of crossing the Alps by rail. Our train left Zurich shortly after 7:00am, and this hour long journey to Chur was spectacular. The tracks ran along the lake with the mountains rising on the other side. Experiencing just this section of the day's journey had already made this trip worth it to me.
At the station in Chur we only had to cross the platform to board the narrow gauge Bernina Express. The "Express" is a bit of a misnomer. This is not an express train, as it stops at a number of stations and travels only as fast as it can while climbing and then descending about 1800 meters. This is a tourist train, with big windows and air conditioned coaches. There are frequent "local" trains that travel the same route, and of course provide the same stunning views, that cost less. But given this trip was to check off a major bucket list item for me, Nicci and I opted to spend a little more and travel in 2nd class across the Alps. I do regret not paying even more for 1st class as the train was crowded. Nicci and I both had window seats, but she had to sit facing backwards. An older couple sat next to us and across the aisle were two younger couples, each with a baby.
The trip itself was everything we imagined it would be. It was one spectacular scene after another. The entire line is recognized as a UNESCO World Heritage site. Built around 1900, it covers 122 kilometers, and passes through 55 tunnels and over 196 bridges and viaducts. Those numbers come from the guide book - I was too busy gawking to count.
There were many highlights, including passing along the glacier towards the top of the mountains, the famous Brusio circular viaduct, and of course, the Landwasser viaduct - the photo of which captured my imagination some 40 years ago.
Tirano, Italy, is at the southern end of the Bernina Express. The train rides along on tracks through the streets of the village and pulls into a station that happens to be right across a plaza from the main train station. At 1:00pm, Nicci and I left the Bernina Express and crossed the plaza, entered a coffee shop, and bought tickets to Milan, which would leave about 15 minutes later. This part of the journey would take a little more than two hours, and it too featured gorgeous scenery. As we approached Milan, the tracks took us along the entire length of the 28 mile Lake Como which we found absolutely beautiful.
Milano Centrale is a massive building and the shed covers 24 railroad tracks. With that many trains coming and going, it figured to be busy, and there certainly were lots of people. We shuffled our way through the crowds, found an ATM to change some money, and then emerged from the station out into the hot, sticky 90 degree heat. We walked about 1/2 mile through narrow streets to our hotel, which was named "The Best Hotel". As we arrived at around 4:00pm the street out front was littered with debris. It seemed there had been some kind of market and people were milling about, trying to clean up. The hotel itself, while not quite living up to its name, proved to be more than adequate for the one night we would be there.
Shortly after checking in, we headed back out, walking the 1 1/2 miles to the Duomo Di Milano. Once Nicci and I decided to include Milan on this trip, the one place we knew we'd have to visit was the Duomo. On the way to this cathedral, we stopped for dinner and had real Italian pizza. Closer to the Duomo, we walked through the Galleria Vittorio Emanuele, a 19th century structure that houses an upscale shopping mall. It was fairly crowded on this Saturday evening and it was fun to watch and listen to all the people from such a multitude of cultures. When we finally turned a corner and saw this massive cathedral rising from an open plaza, we were immediately in awe of its size and ornate architecture. Construction of this cathedral started in 1386, and yet it wasn't officially completed until 1965. It is recognized as the 5th largest church in the world.
We stood in line for about 20 minutes to buy tickets so that we could climb the stairs to the roof of the Duomo. The wait, and the climb through a narrow, steep passage way, was absolutely worth it. The views from the top are breathtaking, and after taking in the sights from every possible angle, we were compelled just to sit and absorb the beauty, the history, the people, and the peace that emanated from this magnificent structure.
After nearly two hours on the roof, we watched the sun set and then descended, via a tiny elevator rather than taking the stairs. We stopped on our walk back to the hotel for a gelato, which was incredibly refreshing, as the temperature was still in the 90s. Back in the hotel I found an Italian football game on TV. I don't mean soccer, either. I watched for a little bit and saw two big plays: a long touchdown pass and a quarterback keeper that went for about 50 yards. I couldn't figure out who was playing though, because oddly enough, the announcers spoke only Italian.
For the first time in several days we were able to sleep in, as our flight to Romania wasn't until mid-afternoon. We enjoyed a croissant and espresso for me, and tea for Nicci, in the hotel dining room and then ventured out to stroll the neighborhood around 9:00am. The temperature was already above 90 degrees but the streets were quiet on this Sunday morning. All of the litter from the previous day's market had been cleaned up which helped to shine a little brighter light on our neighborhood. Still, we were saddened to see so much graffiti. It pretty much covered the first floor walls of every building. Most of these buildings have been here for two hundred years or more and to see them desecrated like this was disappointing and overall, it gave Milan a gritty, almost dirty look. To be fair, we noticed this graffiti on the buildings next to the railroad tracks throughout Germany and in and out of Zurich as well, but not so much in the picturesque neighborhood where we had stayed.
Our Sunday morning stroll took us back towards the train station, and then beyond into downtown where modern skyscrapers contrasted with centuries old buildings. Along the way we saw a poster advertising the Italian Football League Super Bowl XXXV. We walked about four miles, looping around to the streets near the Duomo where we had been the previous night. By 11:00, we checked out of "The Best" hotel and walked once more to Milano Centrale where we needed to catch a bus to the airport. Milan was waking up and heating up; the temperature now at least 95 degrees. We found our bus and thought it would be leaving in just a few minutes, but it ended up being closer to 20 minutes. We had plenty of time so we weren't concerned about missing our flight. Our concern was the heat. We sat on that bus without air conditioning before finally the driver turned it on, saving us all. Shortly after, he took us on a frantic tour through narrow streets, accelerating quickly, braking suddenly, forcing pedestrians to scramble for cover... but we made it to the airport on time and in one piece.
Milan has three airports. Our flight to Bucharest was leaving from Linate, which is the mid-size airport and closest to the city center. It's also known for a horrific disaster in 2001, just weeks after 9/11, in which two planes collided. The accident occurred during heavy fog. Poor visibility and faulty radar equipment in the airport were the main culprits in this tragedy. I never mentioned this to Nicci when I was making our travel plans, as flying still makes her a little uneasy, despite her love of travel. I figured though, that a decade later Linate would have updated their air traffic control systems. Still, I was somewhat relieved to note that it was a bright, sunny day, with absolutely no fog.
We had several hours to wait before our Blue Air flight to Bucharest. Once again, Nicci and I enjoyed people watching in this busy, but tiny, international terminal. There were a number of school groups traveling this day. At one point, Nicci and I felt like we were the only adults amongst several hundred people at the gate. Fortunately, those kids boarded a British Airways flight to London.
We boarded our plane shortly after, right on time, and enjoyed a very comfortable two hour flight. We lost an hour due to a time zone change, but we were on the ground at Bucharest Henri Coanda International Airport at 7:00pm. There were no issues clearing customs, but we had a little confusion trying to buy a bus ticket into the city. After seeing us struggling with an automated ticket machine, a young lady tried to help us out but eventually we ended up at an information booth. The lady there was not as helpful; she sold us the tickets but we realized afterwards she'd withheld our change. The loss only amounted to about $10, but we felt like we'd been taken.
The city of Burcharest is sprawling and spread out over very flat terrain. The airport is quite a ways outside the city center and our bus ride took us past old and new buildings, fields and parks. It made about a dozen stops and along the way a very smelly gentleman boarded and sat behind us, and he talked non-stop. We have no idea what he was saying but Nicci and I dubbed him as a Romanian conspiracy theorist. Interspersed in his dialogue with himself we heard a few recognizable words, such as "Washington" and "White House" and "Parliament" and "Prime Minister". At one point, as we were approaching a stop, he got up and walked to the doors. The bus was stopped next to a car at a traffic light and this man pulled out a pen and notebook and duly jotted down this vehicle's license plate. We then were chagrined to realize that the next stop was ours. Fortunately, as we disembarked, this man went back to his seat and stayed on the bus.
Our bus stop was located in a busy intersection; a circle with wide, multi-laned streets crossing from different angles. We took a few minutes to study our map and take in the surroundings before starting the walk towards our hotel. We quickly realized we'd taken the wrong angled street and so we cut through a smaller side street that led us past the Indonesian Embassy. As we passed, a pizza delivery guy pulled up and rang the buzzer at the gate. Still not sure that we were on the right path to our hotel, we waited for the pizza guy to make his delivery and then we asked if he knew how to get to the le Boutique Moxa hotel. He did, as it was right around the corner.
The hotel itself was nice enough, although not quite as luxurious as the Rolls Royce parked in front might have led one to believe. The elevator was out of order so we had to climb up four flights of stairs to our room. There was an air conditioner, but it was having a hard time battling the uncharacteristically high temperatures. The window opened, but it didn't provide much of a cross draft. Still, we were happy to unload our backpacks and head back out to find some dinner.
Once again, Nicci and I were up early and out of our hotel by 8:00am. According to all the research, there was a train to Brasov leaving at 9:00am. We had about a mile to walk, in a different direction than where we had been last night. This time, we had no issues following our maps and we arrived in plenty of time at Gara de Nord, and then things got confusing.
Over the previous few days we had learned to navigate different automatic ticket machines, but the train station in Bucharest did not have any. There seemed to be two distinct ticket counters, serving two different train lines, but no one spoke much English, and of course we didn't speak any Romanian, so it was hard to decipher what those people were telling us. We thought at one point that we were being told just to get on the train and then we could purchase our tickets with a credit card from the conductor, so we found our way to the platform. We asked several people who were standing out there if we were on the right platform for the train to Brasov. Most just nodded; I'm not entirely sure if they knew what we were asking, but one woman did seem to speak decent English and she confirmed that the train to Brasov would be here shortly and yes, we could purchase tickets with a credit card onboard. A few minutes later a train arrived on the tracks opposite us, and everyone who was waiting with us crossed the platform to board this train, so Nicci and I did too. It was crowded, and people pushed their way on as soon as the doors opened. We too scrambled for seats, only to find ourselves surrounded by angry people. We took that to mean we were sitting where we shouldn't be sitting. It turns out there was a school group and they had reserved these seats. One young couple rescued us, and spoke enough English to tell us what was going on and that it was OK if we sat back a few rows near them. Their boys would sit on the floor of the train anyways. So Nicci took the one seat, and I moved further back on the train to stand.
The train itself was a sleek, modern articulated unit, but it seemed that the seating configuration was more suited for commuter service rather than a long distance train. I was standing in the section where two cars joined together. A woman was sitting there also, on a tiny wooden folding chair. She had her bag propped up on another folding chair and as the train started moving she graciously moved her bag so I could sit too. And then she found another chair so that Nicci could come and sit with me.
As our train left Bucharest and rolled through big fields of sunflowers, the conductor made her way through the aisles, collecting tickets. We were ready with our credit card when she got to us, but she just looked at us and shook her head. "No problem" we said, as Nicci offered her Euros. Still, the conductor shook her head. "Only Lei" seemed to be the only English she spoke. This was a problem for us, as we had not converted any money to the Romanian currency, which was no doubt a foolish decision on our part. As the conductor glared at us, the woman who had offered us the folding chairs intervened and translated for us. Realizing that we had no Lei's, she pulled out her phone and used the calculator function to figure a conversion rate. She was willing to give us around 85 Lei for 20 Euros, which sounded good to us. Unfortunately, all we had were Euros in increments of 50, and the woman didn't have enough to make this conversion. The conductor was getting angry, but the woman waived her away and so she left us then, continuing down the aisle collecting tickets from responsible Romanians. Nicci and I started thinking what we'd do when we were kicked off at the next station. But the helpful woman had gone off and collected enough Lei from her traveling companions sitting a little ways away, and she was able to make the conversion for us after all, and so we were able to buy tickets when the conductor returned.
The woman then began telling her story, and telling us about Romania. She was on her way to Sinaia to look for a house, because Bucharest "is just too crowded and too busy". Her husband worked in the big city but they always had wanted to move to this beautiful town in the mountains. She insisted that we get off the train in Sinaia to enjoy its beauty; we could always catch a later train to Brasov. She told us that if we don't, when the train leaves the station in Sinaia we'll wish we had.
It was around this point when she stumbled a bit with her English. She was searching for the phrase "change your mind" and couldn't quite get it right, but a young man who had been sitting behind Nicci overheard and came up with those words to help her finish her story. He then told her that she spoke English like his mother, which made the woman laugh. She admitted that she learned by watching TV. The young man, who spoke very well, admitted that he learned by watching Cartoon Network. He was in his early twenties, a music teacher, and also on his way to Sinaia to participate in a music festival. Nicci shared that she also was a teacher in the arts, and that led to an interesting discussion between the two of them on education. Meanwhile, the woman continued to tell me more about her life in Romania. It was really quite fascinating, and in addition to the conversations going on inside the train, the scenery outside was changing as well. We had left the sunflower fields and were beginning to climb into the mountains.
Shortly after this, the train arrived in Sinaia and our two new friends departed, as did many other passengers. Nicci and I were able to move from our folding chairs to more comfortable seats and as the train left the station the view immediately opened up, and we remembered the woman's words: "If you don't get off in Sinaia, you'll wish you had." We were at the base of a spectacular cliff that towered over a picturesque town. She had also said that tourists go to Brasov, and Romanians go to Sinaia, and now we understood what she had meant. Maybe next time… but this trip we had plans to meet Nicci's friend Arabella in Brasov, which was about 45 minutes further through the mountains.
The train pulled into Brasov just before noon. Despite the whole ticket confusion we had thoroughly enjoyed the ride and the conversations we'd had. We wondered what we'd do in America, if we saw someone struggling with a language barrier, and if we'd be the type of people to help them out.
Our plan for the day was to walk about 4 miles through the city to the cable car at the base of Mt Tampa. We had previously arranged to meet Arabelle in a plaza near the base at 4:00. Our walk took us along busy streets and through a park full of children playing. A long the way we stopped at Panini's, a fast food restaurant where we had some kind of chicken sandwich. The best part was the free wifi. One thing we discovered in Romania is that their wifi is better than any others in Europe. It makes sense, as they have been late adopters to technology, and so they are building with brand new modern infrastructure.
Brasov is situated in a valley, in between Mt Tampa and several other ridges that surround the city. At the top of Mt Tampa is a Hollywood style sign, which seems out of place in Romania, but was built to attract tourists. It's a short ride to the top in the cable car. Riding with us were two college age girls from Waterloo, Ontario, who liked the Rush shirt I was wearing. At the top, there was a short hike on a rocky path to the Brasov sign where there's an observation deck. The views are breathtaking, and certainly worth the effort to reach the deck.
We spent about an hour at the top, cooling off with a cold drink before taking the cable car back down. We walked through the old city walls and around the Black Church, which is the largest Gothic church in Eastern Europe, and then found a shady spot in the plaza to wait for Arabelle. It seemed all of Europe was going through this heat wave, and Brasov was no different. It was well over 90 degrees and we had been carrying our backpacks all day, so when Arabelle joined us, our first stop was in a shaded café for lemonade.
Nicci met Arabelle a number of years ago in England when Arabelle's sister, now deceased, was married to Nicci's uncle. She is from Liverpool but emigrated to Romania about 7 years ago, which was when Nicci last saw her. Because it had been so long, it was important for Nicci to see her friend on this trip, and I'm very glad that we did.
We piled into Arabelle's little car that she'd driven all the way from the UK and headed out of Brasov and up into the region of Transylvania in the Carpathian Mountains. Being an English car, she drove from the "passenger side", even though Romanians drive on the right side of the road. We passed a castle perched high up in the hills, stopped at a watermelon stand in the country, and then a modern grocery store in the village of Zarnesti. From there we passed an abandoned Soviet ammunitions plant before tackling the mountains on a winding dirt road with forests on one side and steep cliffs on the other. When we made it to the top of the ridge we were surrounded by small farms, hillside cottages, and views of the mountains in all directions.
As we made our way along the ridge, past haystacks, horses, a calf or two, and lots of chickens, Nicci fondly recalled how this had looked to her 7 years ago. Arabelle had just purchased her home then, which had been little more than a hole in the ground. Since then, much work had gone into remodeling, making it not just habitable, but a very comfortable and hospitable mountain home. And the views…. I can certainly see why someone might want to settle in this beautiful country.
After five days of non-stop travel, it was nice to have a day just to relax and surround ourselves with the natural beauty of these mountains, which is what we did on Tuesday, July 7. Originally, I had hoped that we might venture further into the mountains and drive the Transfagarasn Highway, something that Nicci had done with Arabelle on her previous visit. But this is a difficult road to get to, and even though it's only about 100 Km in length, it becomes a full days' drive due to the steep, winding hairpin corners. This remains on my to do list, and gives me another reason to come back to Romania some day.
I had also hoped to see the Poenari Castle, which Romanians call the "real Dracula's castle". This castle was built in the 13th century on a remote, rugged ridge along the Transfagarasn. In the 15th century, this castle was ruled by Vlad Draculea, also known as Vlad the Impaler because he liked to torture people by piercing them with sticks and leaving them to die slow and horribly painful deaths. Approaching armies often retreated in fear when they saw thousands of bodies rotting on sticks surrounding Vlad's castle. It's frightening to read about this kind of barbaric, brutality that existed in the Middle Ages, and one wonders how difficult it would have been just to survive the times. It's so much cleaner for our rulers today. They don't have to smell rotting flesh, or find enough sharp sticks; they have anonymous drones that can kill thousands from continents away.
We didn't have enough time to make the journey to Poenari, so instead we headed back towards Brasov, to the village of Bran, to visit Bran Castle. In 1897, the Irish author Bram Stoker wrote his horror novel about the vampire, "Dracula". The name is a derivative of the descendents of Vlad Draculae, who were known as Dracul, which loosely translates in Romanian to "the devil". Stoker researched the Transylvanian region and culture, but there's no evidence that he ever visited this particular castle. However, given the coincidental similarities of Stoker's first name and the name of the village, and the fact that this region was within the realm of the Dracul, popular culture has claimed this as "Dracula's Castle". Nicci and Arabella call it the "kitchy castle" due to its tourist gift shops hawking cheap t-shirts and other paraphernalia.
Nicci had toured this castle her last time in Romania, so the ladies let me explore this on my own while they enjoyed a lemonade at a sidewalk cafe.
Given the uncertainty of our train journey to Brasov, Arabelle thought it best that we take a taxi back to Bucharest to ensure we arrived in time to catch our 5:30 flight to Barcelona. We let her make all the arrangements, and after my morning tour of the castle, and a scenic drive back into Brasov, we met our driver in a McDonald's parking lot. We joined two other women in the van who were also heading to Bucharest. The road for the most part paralleled the tracks we'd came in on two days before; the first part of the drive down through the mountains, and then flattening out through the sunflower fields.
We made it to Henri Coanda International Airport in plenty of time to catch our Wizz Air flight to Barcelona. As it got closer to boarding time, the limited seating area at the gate filled up, so Nicci and I, who had been wandering the airport, went right up and stood next to the ticket counter. Even though there was not yet an attendant, within minutes of us standing there everyone else at the gate got up from their seats and formed a line behind us. Nicci attributed it to my 6'5 height and dark glasses; she thought I looked like I carried some celebrity or authoritarian status.
I was wearing the sunglasses because I'm a sufferer of seasonal allergies, and it was hay season in Transylvania, and I was feeling the effects. My left eye in particular was bloodshot and had begun to swell up. It was uncomfortable, but having dealt with this most of my life, it certainly didn't slow me down or dampen my enthusiasm for the things we were seeing on this trip.
The Wizz Air flight was quite comfortable; Nicci and I were sitting in the front row of this A320 and we each enjoyed a ham and cheese sandwich on the way. The approach into Barcelona was particularly amazing. We came in along the coast of the Mediterranean and then began spiraling downwards. Looking backwards and up I could see two other planes trailing us in this spiral. We were coming down as if in a parking garage, and then when we flattened out to the full view of the Barcelona skyline and the Mediterranean beaches below us.
Barcelona Airport has two terminals, and we discovered it's not easy to get from one to another, which we would have to do in order to catch our hotel shuttle. Both terminals are massive buildings and we spent a lot of time wandering around trying first to find the shuttle to get to Terminal 1, and then the bus to our hotel. One of the many things that Nicci and I have in common is our ability to laugh at ourselves, and find enjoyment even in the most stressful situations. We don't get flustered easily. Every wrong turn we made provided something else to see and experience, and even though we exhausted ourselves, we reveled in the knowledge we gained about the Barcelona Airport that night.
We enjoyed a delicious breakfast in the hotel restaurant and then paid to take a shuttle bus into the city center. Knowing that we would have two days in Barcelona we hadn't made any specific plans about what to do first or how to start our tour. We were dropped off right near the harbor area, and then wandered a bit before we discovered a bus stop for "Hop on, hop off" tours. We took a look at the route maps and then decided this might be the best way to see the city.
There were many highlights for us along this tour, but the two that we wanted to see the most were the Gaudi Cathedral and Park Guell.
Antoni Gaudi was a Spanish architect who lived around the turn of the 20th century. He holds an important place in architectural history, and his influence is seen throughout the world, and in particular in his home town of Barcelona. He's known for his organic style, using building materials that form shapes previously seen only in the natural world. None of this is more evident than in his massive cathedral, Sagrada Familia, a building that was started in 1915 and yet not expected to be completed for at least another 20 years or so.
The cathedral is the culmination of Gaudi's earlier experiments in shaping materials and molding his creations to resemble natural forms. Many of these sculptures can be seen in Park Guell, a large garden area that Gaudi designed along with Eusebi Guell, a former student of his.
We didn't pay to enter either of these places as the lines were long, and we felt like we could enjoy the surrounding areas just as much. We'd only been in Spain about 16 hours at this point but Nicci and I already knew that we'd be coming back some day, so we told ourselves we could hold off on the full Gaudi experience. There was still plenty more of Barcelona to see.
Back on the bus, we continued around the city, taking in such sights as Camp Nou, the Barcelona FC soccer stadium; the National Museum of Art; and the Olympic Stadium, built in the 1930s and host to the 1992 Olympics. Along the way, Nicci and I had our first major disagreement. The National Museum is located on top of a hill and leading up to it is a wide avenue with two large towers at the entrance. Beyond that, there are four Roman columns and a series of fountains with water running down from the museum entrance. We agreed it was a very impressive entrance, but Nicci didn't like the towers or the columns. I loved them.
During our research on Barcelona preceding this trip, we discovered the Barcelona Cable Car, and quickly agreed that despite its rickety and fragile appearance, we could overcome our feelings of vertigo and enjoy the views that it would provide. Our last stop on the bus tour left us with a short walk around the harbor to the Cable Car tower, where we stood in line for almost an hour before being lifted up in an old elevator. From there, we piled into a box with open windows and were carried across the harbor to Montjuic. By this time it was almost 7:00pm and we were getting hungry, so Nicci and I got right back in line for the return trip.
I was also suffering from my swollen eye that had started the day before in Romania. It no longer felt like normal allergies, and although I didn't feel pain and it didn't affect my vision, it was getting uncomfortable. Nicci was growing concerned, but getting sick was not on our itinerary, so I insisted that we carry on, and at least walk on the beach before heading back to our hotel.
It felt good to put our feet in the water as we walked along, feeling the waves crashing against us. Even at 7:00pm, it was around 90 degrees, but being right there in the Mediterranean with a bit of a breeze was reinvigorating.
We had decided that we would take the train back to the airport, and from there take the shuttle bus back to our hotel. This required us to figure out the subway system, which is quite expansive. We found a sidewalk pizza place that had great wifi, as well as great pizza, and researched the trains we would have to take. Armed with a little bit of knowledge we headed underground, stumbled around a bit, but eventually found a train to take us to another train which led to the train that got us out to the airport. As we cruised along out of the city we were able to witness the Spanish sunset.
Thursday night in the hotel, upon Nicci's insistence, I slept with ice wrapped in a towel on my eye. Friday morning it seemed to feel better, and I was bound and determined not to let it slow us down on our last day in Spain. Nicci wanted to go to the Joan Miro museum, which was by the columns we had argued about the day before on our bus tour. My goal for the day was to swim in the Mediterranean.
We decided that it would be more cost effective to take a city bus from our hotel, and also it meant a different route so we could see more of Barcelona. We hopped on the 53 bus, had a little trouble with the language while purchasing tickets from the driver, and then realized we should've been on the 153, which was an express that skipped all the local stops. But we eventually made it to our stop, in front of the columns of contention. Before going up the hill to the museum we sat in a shady spot and had a sandwich and discussed the aesthetics and purpose of these four beautiful, yet unnecessary columns.
Nicci and I eventually worked our way up the hill, and around to the Olympic Stadium where we could go in and take a few pictures, and then continued on to the Joan Miro museum. Miro is one of Nicci's favorite artists. I'm not sure I can describe his work, despite Nicci patiently explaining the nuances of his sculptures and paintings. Call it childlike surrealism, I guess. I'm not sure that I totally understood, but I loved watching Nicci light up at every exhibit. And I loved that it was air conditioned, although I was starting to feel feverish as my eye continued to swell.
But again, we pressed on. After last night, we considered ourselves experts at using the Barcelona subway system, so we found a way underground and onto a train to take us back towards the port and the beach. We each bought a fresh fruit cup with pineapple and strawberries, and then Nicci bought a blanket to lie on from an Indian street hawker, and I jumped into the Mediterranean. Being in the water again picked me up and seemed to help my eye. At the very least, it cooled me off and I felt much better.
We decided we needed pizza again, so we stopped at the same place as we had the night before, where we were able to check bus schedules using their wifi. This time, we caught the 153 Express bus which dropped us off right in front of our hotel.
I had iced my eye again all night, but this morning it was still pretty swollen. There just wasn't time to do anything about it though, as we had a 7:00am flight to Frankfurt. We boarded our Vueling Air A320 right on time, and began taxiing to the runway, but then we pulled off and stopped. The captain announced that they needed to replace a component, so we sat there for about an hour. Fortunately, the flight was not totally full and a stewardess recognized my discomfort, due in part to the girl in front of me putting her seat all the way back, and suggested I move to an exit row aisle seat. Normally, I love the window seat, even though it means cramming my 6'5 body into a smaller space, but this day I was more than happy to take this seat. Nicci also moved, but only to the seat directly in front of mine. As the mechanics completed their work, and installed this new component somewhere under the wing, the man next to me offered to move so that Nicci could sit with me. Eventually we took off, about 1 ½ hour late, and then had a fairly smooth flight. It's never fun to sit on a plane when it's not going anywhere, but I do appreciate it when they replace components on the ground rather than in the air.
On the ground in Frankfurt, we disembarked from the plane and boarded a bus which took us to the terminal. Even with my eye nearly swollen shut, I still enjoyed gawking at all the planes at Frankfurt Airport. Inside the terminal, Nicci insisted that we seek some kind of medical assistance. We wandered around quite a bit but eventually found a clinic, where I was looked at by a German surgeon who we guess just happened to be on call that day. He didn't think it was infected, although he reminded us that he was "just a surgeon", and recommended that we go to the University hospital in town. Instead, we found a pharmacy in the airport terminal and bought some powerful eye drops that Nicci dutifully administered.
I was anxious to go see Frankfurt, but Nicci reminded me that we have the rest of our lives to see Frankfurt, and it would be better if I rested and iced my eye again. So we took a shuttle bus to our hotel and I spent the afternoon lying on my back with an ice pack on my eye.
Around 5:00pm, I convinced Nicci that I was well enough to go out. Our hotel was near the airport, a little ways outside of the city, and so we had to walk about a mile past a farm to a small village where we caught a train. Once again we struggled with the automated ticket machine, and once again some kind people helped us out, this time offering the correct change since the machine wouldn't take our credit cards.
One of the things that we really wanted to do was to go to the top of Frankfurt Main Tower, a 56 story skyscraper with an outdoor observation platform. The train left us in downtown and we had just a short walk through a city park to the Tower. One of the world's fastest elevators whisked us to the top, and we were greeted with amazing views of the city. From the top we could see the other place I was hoping to visit; the Romerberg, which is the historic part of the city.
We spent about 30 minutes on top of Frankfurt before heading down and walking about a mile towards the old town. We planned on eating and having a German beer in the plaza, but needed to find an ATM as we soon discovered no one would accept our credit card. Finding an ATM also proved to be surprisingly difficult. We asked around, and then one lady, who had previously shook her head no, called us back from about a block away: she had spotted one in the opposite direction It seemed to be a theme of our trip; people willing to help these American tourists.
We then enjoyed our sausage and beer, and people watched. For dessert, we picked up a gelato and strolled along the river, really enjoying Frankfurt and our last night in Europe.
We left Europe on another Singapore Airlines A380, at around 9:00am on Sunday morning. Again, we enjoyed the service and amenities of this airline and this massive plane. The 7 hour flight was smooth the whole way and we landed at JFK right around 11:00am local time.
My eye was still swollen, although the eye drops were helping. Still, the customs official asked what happened to me and couldn't believe that it was only allergies.
We had not made any real plans for what to do this day, as we weren't sure how tired we'd be by this point. We had lots of time to get to Newark Liberty for our 8:00pm flight to South Bend, so we took the AirTrain from JFK to the Howard Beach station, and then the subway to Central Park in Manhattan. We found a shady spot and lay down on Nicci's Indian blanket that she'd bought in Barcelona and just enjoyed the many sights and sounds that is quintessential New York.
By mid-afternoon we were ready to go to the airport, so we took the subway to Penn Station. From there we took a NJ Transit train to the Newark Station where we transferred to the AirTrain to take us to Terminal A. With plenty of time to kill, we each had a burger and then settled in. As 8:00pm approached, my eye was really starting to feel uncomfortable, and by that time, I couldn't wait to get home.
The flight to South Bend was also smooth and on time, and my parents were there waiting for us. It was the end of a fantastic trip for Nicci and I, despite my swollen eye. I saw my doctor the next day, and my eye did turn out to be infected, and he prescribed an antibiotic, so that episode ended well, too.
As for Nicci and myself, we are currently planning our next great adventure.